Multiple applications on a single contactless card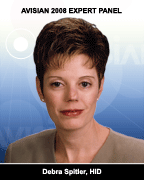 Debra Spitler, Vice President, HID Connect
The widespread proliferation of credential-based identity and access management systems is helping enterprises take a new view of secure credentials' role in cost-effectively and conveniently solving a variety of business problems. Going forward, we will see common credentials continue to help organizations leverage existing infrastructure investments while addressing business compliance issues and supporting improved business processes.
High frequency 13.56 MHZ contactless smart cards are a key component of the new credential-based systems. High frequency contactless technology is the medium of choice for several reasons:
First, based on read / write capability and increasing memory size, it is relatively easy to use these cards for a number of diverse applications.
Second, contactless smart cards offer a high degree of user convenience and are cost-effective to deploy.
Third, due to encryption capability, the security level is high and any concerns with user privacy are addressed.
Depending upon the amount of memory available and the number of application areas, contactless smart cards can be used for a myriad of applications including biometric template storage, time and attendance, logical access, authorized access to office equipment such as networked printers and copiers, cashless vending, equipment and material check-out, lighting and HVAC control and billing, and almost any other type of identity-driven transaction.
Due to their inherent high degree of user convenience, the adoption of contactless smart cards has been steady. However, although users express interest in using the card for multiple applications, the vast majority of such cards are still used for a single application such as transit, cashless vending, and, more recently, physical access control.
Given the breadth of possible applications that can be associated with a single credential, what factors are delaying the adoption and deployment of such cards and how are these obstacles overcome?
First, there is a need to have hardware and software solutions that are developed around a common and widely used technology platform. Industry leaders such as HID Global are taking strong steps to develop and support partner "ecosystems" that offer a portfolio of hardware and software solutions that utilize a common technology platform and work together seamlessly. These "ecosystems" offer the user the ability to quickly identify best-in-class solutions for a wide variety of business problems. By relying on these partner products and solutions, the user can quickly find solutions that are robust and share common integration points.
Second, users are seeking new methods to conveniently encode applications to a contactless smart card. Imagine a scenario in which the user could simply open a simple PC-based program, click on the desired applications, insert the card into a photo ID printer, and press "print." The result would be a card with visual security in the form of a photo ID and a fully encoded contactless smart chip to manage each of the chosen applications. As deployment of multi-application cards becomes a "point, click, and print" operation, use will become more widespread.
Third, within many enterprises, diverse departments are involved in making decisions as to what applications will be implemented. This demands that these departments are represented by individuals who can look at the "big picture" requirements of the enterprise and then proceed to pool resources to achieve the greatest operational efficiencies. In an ideal setting, partners within the ecosystem are also able to assist users in identifying other areas of card utilization, thus further helping to maximize the return on investment potential.
As partner ecosystems grow and common technology platforms expand, users will find that multi-application credentials will be a sound way to respond to business compliance issues without increasing infrastructure complexity. These benefits, coupled with user convenience and cost-effectiveness, will, over time, result in a more widespread adoption and use of a single credential for multiple applications.
---
About the AVISIAN Publishing Expert Panel
At the close of each year, AVISIAN Publishing's editorial team selects a group of key leaders from various sectors of the ID technology market to serve as Expert Panelists. Each individual is asked to share their unique insight into what lies ahead. During the month of December, these panelist's predictions are published daily at the appropriate title within the AVISIAN suite of ID technology publications: SecureIDNews.com, ContactlessNews.com, CR80News.com, RFIDNews.org, FIPS201.com, NFCNews.com, ThirdFactor.com, and DigitalIDNews.com.