Near field communications is the talk of the ID world, but what will it take to turn the talk to action?
By Andy Williams, Contributing Editor
Every time you turn around you see an NFC pilot program cropping up somewhere in the world. What you haven't seen are many full-scale commercial rollouts. In fact, those could be counted on one hand. Sure, near field communication technology is still relatively new – but in a world where new innovations quickly become yesterday's news, could NFC be starting to show its age?
Developed by NXP Semiconductors and Sony, NFC is a standards-based, short-range wireless connectivity technology that enables simple two-way interactions among electronic devices.
While some industry watchers are suggesting that NFC is slow out of the gate, one research firm has gone so far as to speculate this year is "critical for NFC technology." New York-based ABI Research predicts that five years from now 20% of mobile handsets – nearly 300 million –will have NFC capability. But that's down sharply from the 25% by 2010 the firm had earlier projected.
Early "enthusiasm for NFC adoption in handsets – fueled by its functionality and flexibility – has been tempered by the complexity of the ecosystem," the company said in a statement released to promote this latest report.
ABI claims that NFC will not become widely available in handsets until wireless operators are confident that they will see a clear return on their investments, calling mobile operators the "gatekeepers of NFC's entry into new handsets."

Others remain upbeat, still bullish on the progress
NXP, one of NFC's developers, would beg to differ both in the number of handset makers who are getting more involved and in the requisite infrastructure.
"There's too much on the plate, but that's fortunate," said Dave Holmes, NXP business development manager for NFC. "There is so much activity going on with handset integration. There's been a monumental shift in the level of interest and the work being done. What we're focused on is the execution stage, making it happen."
Mr. Holmes said a few "are really pushing, innovating and most likely will be the first out of the gate with NFC handsets. Others are sitting back and waiting to see. The good news is that some of the leaders are some of the biggest names in the business. You've seen some of the trial activity, Cingular in Atlanta, and the New York City transit trial." Many handset makers are beginning to get involved. "It's kind of a who's who of handset makers and carriers," said Mr. Holmes. Added to the mix are Visa in Atlanta and MasterCard in New York, he points out.
He said the first commercial rollout in Hanau, Germany, for transit, "proves that (NFC) works and users really liked it and wanted it. What I think will be the next big thing to make it explode are payment applications in the U.S. and transportation applications in Asia."
Most of the trial activity so far has been with low-end or mid-tier phones. "That's designed to test it with mainstream users. It's not something that requires a professional user," said Mr. Holmes.
He added, "from my perspective, we don't need to go much further. Now that it's chugging away, we've settled into our core competency, hardware and software."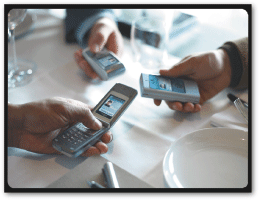 New specs refine tag formats, define peer to peer communication, and more
The NFC Forum was created in 2004 and has grown to more than 110 members, including leading mobile communications, semiconductor and consumer electronics companies. The forum's mission is to advance NFC use by developing specifications, ensuring interoperability among devices and services, and educating the market.
Martin Buehrlen, NFC program manager for NXP and secretary of the NFC Forum, said that while the organization has already created some up-front specs designed to encourage NFC implementation, its work is far from done.
"We're finalizing a few more technical specifications regarding support for the tag formats (the tags go on smart posters and coupons to be read by NFC-enabled devices). There was an announcement a year or so ago saying that there's a list of tags which are readily available in the market and that NFC Forum supports these tag formats," said Mr. Buehrlen. "These are easy and cost-effective with existing solutions so manufacturers don't have to make new transponders with NFC," he added. Bottom line is that "the NFC Forum decided to be compliant with existing tag formats." These specs are already in the voting process and should be ready soon.
"Other specifications being worked on are focusing on the peer to peer communication between NFC devices and mode switching, utilizing an internal switch so the device can operate in several modes -– card emulation mode, card reader mode, peer to peer mode," he added. "They're on the schedule (for adoption) this year. We also need to provide the test specs for all the other specifications available in order to establish the compliance program. When you have specs you also need to have a way to test devices in order to make sure they're compliant."
The forum doesn't want the consumer to have to think twice before he whips out his cell phone to make a payment or place it near a smart tag to download some information.
With payments, he said, "in many cases we're already covered with existing specifications. In some areas this is outside the NFC Forum. What's covered is the RF (radio frequency) level and the protocols" such as ISO. " When it comes to higher level protocols and how software works with credit cards, those (protocols) are available from Visa and MasterCard and others."
Where the NFC Forum is involved, he added, is with the communication from the NFC chip to the smart chip in the mobile phone. "This is being worked on now but it's not something that's waiting for implementation because Visa already has a system with NFC in New York and it's running based on existing technologies, no new specifications," said Mr. Buehrlen.
In search of ROI
In answer to ABI Research's comment about a business case for NFC, Mr. Buehrlen says, "there are a lot of business models which are possible with NFC but it does require a certain investment by the companies who want to benefit. If you want to do payment with NFC you need to have an investment in payment terminals. If you want to have a revenue stream (a mobile operator, for example) with respect to downloadable content, then the infrastructure for the consumer to pick up this location-based content needs to be established. The same goes for advertising. When you use NFC in combination with smart posters and product info, you need to build up a certain infrastructure. This is a very normal situation in new technologies."
He said it would help "if more companies would decide to go for a bigger rollout and a faster rollout then what we have seen so far."
He cites, as an example, Japan, that has shown that such business models pay off. "More companies are jumping on the train with public transport tickets. There are a lot of payment schemes and loyalty schemes and voucher applications. There are several public transport operators using the mobile phone for not only transit, but for numerous loyalty schemes. Small stores, not chains, but individual restaurants, can have their own loyalty schemes based on this. It's proof that you can make money with this kind of technology."
Shortage of handsets and models continues, but help is on the way
"The variety of different mobile phones with NFC support at this time are not sufficient (when compared to) what consumers are used to getting when they go into a store to select a phone," says Mr. Buehrlen, "but this is really increasing and improving."
He cites the forum's increasing membership as an example. "A lot of cell phone manufacturers are members, including a lot of the big ones. Research in Motion (RIM), Blackberry inventor, has come aboard. "The very encouraging part is that so many companies which are in the business of mobile devices are members."
One of the founding members of the NFC Forum and one of the leaders in producing NFC-compatible phones is Nokia, which, earlier this year, released its latest phone, the 6131, at the Consumer Electronics Show. Attendees got a chance to view its use, including swapping business cards by tapping two NFC phones together, buying coffee, and more.
Calling the 6131 an extremely positive development for NFC, NXP's Mr. Holmes states, "from my point of view, at least from the U.S. development stage, it gives carriers an option with a nice looking, high end, full featured phone."
He adds, "major carriers can request a phone and have it pretty quickly. It opens doors to some of these smaller carriers to have an NFC phone option."
Gerhard Romen, head of marketing development for Nokia in Finland, said the 6131 is a mass volume device. "Going from pilot to deployment will only happen step by step. We see a three to five year development period. We'll start in high density areas and evolve from there."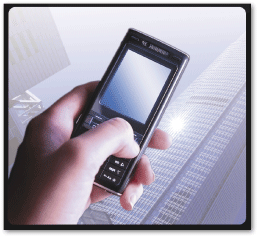 Nokia views the phone as a mini computer
Mr. Romen said he was in a meeting recently with about 100 people. "I asked everyone if they had a mobile phone and for how long. Most started between 1994 and 1998. The prime application was voice but there has been a huge evolution with texting, SMS, Web browsers, then the introduction of Java on mobile phones. From Nokia's point of view, the phone is now a mini computer with a full-blown operating system with a keyboard. There are more than two billion users globally who now have Internet connections … they can use eBay. All of a sudden you have much more than a phone."
He added: "From our heritage at Nokia, we focused on a simple user interface. That's what brought us into NFC. Back in 2001 we studied user behavior. We felt this touch and point was a powerful thing, not intrusive, something you could do (and) if we combined the phone capabilities with that touch paradigm … that would be powerful. We looked at other technologies, including bar codes, and ended up with NFC."
Mr. Romen is obviously excited about the potential applications for NFC. "Visa and MasterCard are working with Nokia to make the phone a fully functional credit card. Just tap, and you've paid," he says. But it "offers more than just your credit card. You can confirm the payment before it happens, or you can check your balance first before you make payment."
In the U.S., he points out, the contactless infrastructure is already there. "We're just complementing or replacing it. Then you add things like posters or a contact point on your washing machine where you could view the manual on how to operate it, again the touch paradigm, or open hotel doors with your phone. You're already pre-booked, you have your key on your phone and you can go straight to your room. Airlines could also do that with check-in."
He uses an analogy to explain NFC's future. "Think about the key you use for your car … you know you have to insert it under your steering wheel and turn it. Have you ever wondered how many things start happening when you turn the key? The engine and all its moving parts, start up. If you have GPS, it starts. All that is simplicity. You turn it on and it is all available. That's similar to what we're trying to do with NFC."
Near Field Communications News and Insight
Explore more developments dealing with the implementation of Near Field Communications, a short-range wireless technology that promises to revolutionize contactless identification, payment, access, and more.
Click to visit NFCNews
.