Nearly half of all payment cards are EMV-based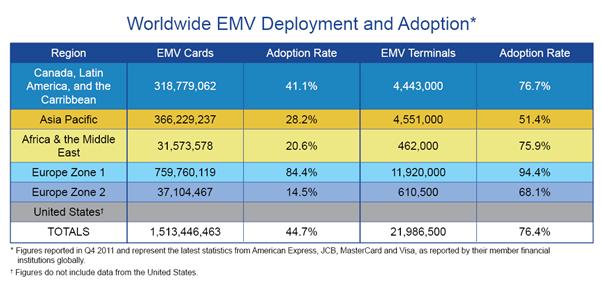 EMVCo, the EMV technology standards body owned by American Express, JCB, MasterCard and Visa, released data showing the growth of EMV acceptance around the world, with nearly half of all payment cards and three-quarters of all payment terminals in circulation being based on EMV technology.
The numbers as reported in the fourth quarter of 2011 state that more than 1.5 billion EMV payment cards are in circulation and 21.9 million EMV terminals are active. These figures do not include data from the U.S.
Western Europe represents the largest region for EMV cards, with an adoption rate of 84.4 percent of cards and 94.4% of terminals.
EMVCo will be hosting the 2012 EMV User Meeting on June 20-21 in Toronto for EMV technology users to discuss technical advances and the evolution of EMV standards worldwide with senior EMVCo representatives.