NEC develops contactless hybrid finger scanner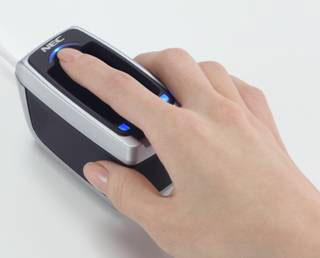 NEC Corporation has announced the development of a new hybrid fingerprint sensor. The HS100-10 Contactless Hybrid Finger Scanner utilizes both fingerprint and finger vein authentication, but doesn't require any physical contact with the scanner to obtain the data necessary to authenticate an individual's identity via the two biometric modes.
The device, which is expected to begin shipping in May 2011, also offers some other advantages over traditional fingerprint sensors such as an ability to authenticate an exceedingly dry or moist sample that most sensors requiring contact would not be able to use.
NEC is hopeful their new solution, specifically, its ability to function as a contactless solution, will be a good fit for the need by many health care providers for better logical access control that doesn't require physical touch for authentication.