NEC unveils portable e-payments terminal with NFC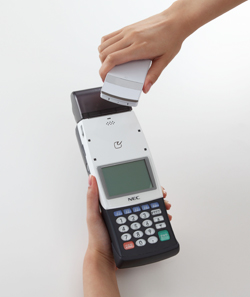 Tokyo's NEC Corporation has announced the launch of a new portable terminal for e-money payments, the Multi-Service Terminal/Portable.
According to NEC, the terminal supports a broad range of e-money and contact/contactless credit card payment methods, as well as IC card communication standards FeliCa, ISO 14443 Type A and Type B, and NFC. Its highly portable form factor and built-in printer allow retailers to accept virtually any form of payment at events and locations where conventional stationary payment devices are impractical.
The terminal, equipped with an NFC reader/writer, also supports various electronic money services through NEC's Marketing & Payment Platform Service (MaPS), which is used in convenience stores, movie rental chains, electronics retailers and more. MasterCard PayPass and Visa payWave contactless payments are also accepted.
Shipments of the new terminal are slated for July 2011.