Nedap's "booster" enables existing prox IDs to power advanced vehicle access control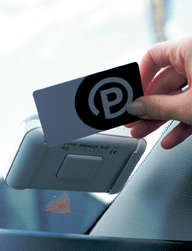 Automatic vehicle identification (AVI) technology can be used to track and authorize automobiles as they enter and exit parking facilities. A Dutch company called NedapAVI has added to this the ability to also identify the driver of the vehicle via the same system. Making this even more innovative, they can do it all using the person's existing proximity and prox/contactless identification badge as the key.
The company has the capability of regulating who can enter a parking garage without the vehicle ever having to slow down and with its in-vehicle booster the car to be tracked up to 33 feet away and at speeds of up to 120 miles per hour.
"We automate (the vehicle ID process) as much as we can to make it as convenient as possible," said Gorm Tuxen, Tuxen and Associates, exclusive agent in the Americas for Netherlands-based NedapAVI.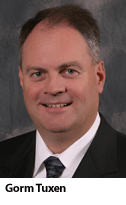 To enter a secure parking area, the person only need insert his ID card into the Nedap booster located on the dashboard or windshield. The card is read, access is granted, and the card is removed. As added security, the car can then be prevented from leaving that garage without the ID card being inserted.
The same card can then be used to grant the person access to the building and control other applications (e.g. logical security, payment). "If the driver is automatically forced to remove his key, since he needs it to enter the building, that's a much better security solution," said Mr. Tuxen. "You're not just interested in the vehicle but in who's driving the vehicle."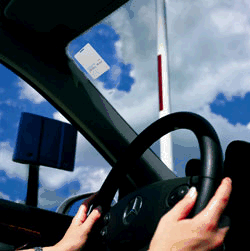 How the system works
The Nedap system is composed of a reader and a tag that sends the signal to the reader. The tag can take a variety of forms including a permanent transmitter affixed to the car or a booster that contains an embedded contactless circuit and also accepts another ID card. Nedap has partnered with California-based HID Corp. for ID card compatibility with its booster tags.
Nedap's system will work with older HID proximity cards as well as newer dual technology cards that contain both proximity and HID's contactless iCLASS technology. "What we've done with HID is create an in-vehicle reader transmitter device for a standard HID 125 kHz prox card. That allows us to make use of all the legacy cards they (HID) have out there. We can take that standard HID access card that's used to control building access and allow it to control vehicle access with the same device," he added.
Nedap also has a "Combi-Booster that has its own embedded ID number (that enables the vehicle to be identified via the embedded number and the driver via the inserted proximity card). I'll know if that driver is authorized to be in the vehicle at that time and place. That allows us to track driver and vehicle," said Mr. Tuxen. This is ideal for trucking companies and highly secure facilities where the operator wants to identify both driver and vehicle before allowing access. "Most AVI systems have tags that are reader specific and they'll just ID the vehicle."
"With cheaper passive tags, you don't get the read ranges," said Mr. Tuxen. "Our reader is tied into a back end security access system. The high speed and long range capabilities allows this system time to open the gate. This translates into hands-free access and not having the vehicle come to a complete stop at the gate, eliminating a possible attack point."
Other applications of the AVI
The Nedap system can also divide up a parking garage based on security needs. "For example," he said, "city vehicles parking under city hall…with our technology, you could automatically secure such an area with AVI tags in every city vehicle; anything less secure, such as visiting vehicles, could be segmented to a less vulnerable area."
Nedap also has a "multi-booster" primarily designed for van pools "where you want to ID everyone in a van," he said. "Up to 20 people can present their cards to the booster. However, that's a full-stop scenario. The guard can then count the people in the van."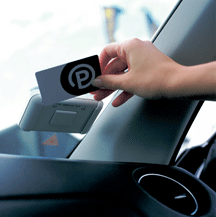 This works for an ungated system as well if the data is tied to a building access system. In such cases, if the person gets to the building and it's determined his card wasn't initially scanned when he entered the parking area, an alarm could be activated.
HID worked closely with Nedap in making sure its system was sound. "With Nedap and all of our development partner program participants, we initially provide them with a development product to integrate with their hardware," said Nathan Cummings, HID's director of Product Line Management, Reader Technologies. "We also assist them with any technical software and hardware issues they might have during the development process."
He added: "Nedap has been a successful and important Prox and iCLASS development partner for many years. Their product development efforts leverage HID's technology that truly speaks to one of our marketing themes of, 'Do More Than Open the Door.' The Combi Booster is a perfect example how typical access control technology cards can be used to increase security and have hands-free operation for driver-based security."
Nedap got its start in 1929 in the Netherlands making an insulator material for electric connections. In addition to its current AVI products, says Mr. Tuxen, the company also produces products for cattle farmers, a water purification system for third world countries, sunroof controllers for automobiles, and power supplies for plasma screens.
---
Additional resources:
To visit NedapAVI on the web, click here.
To read a case study of the Nedap product's use at Eastman Kodak, click here.