New biometric ID to provide a PASS for citizens traveling between the U.S., Canada, and Mexico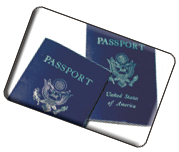 By Andy Williams, Contributing Editor
With the land border crossing deadline rapidly approaching, there is still no clear consensus on what identity documents will be acceptable for those frequent travelers between Canada, Mexico and the U.S. Now, added to the mix is the recently announced PASS card that is already under fire.
Until recently, it appeared that it would take a passport to get into the U.S. – even for citizens of Canada and Mexico … and even for returning U.S. citizens. While this may not seem like a major issue to some, consider this: residents in border towns in New York, Michigan, Washington, Texas, etc. frequently cross international borders to shop and socialize and less than a quarter of the U.S. population currently has a passport.
Left unsaid, because no one wants to be quoted as saying it, is that the U.S. considers Canada's security porous. For terrorists seeking entry to the U.S., an easier point of entry may be through Canada, the suggestion goes. True or not, it's creating massive headaches for tourism and commerce officials on both sides of the border.
The proposed PASS card is intended to alleviate some of that pain for U.S., Canadian, and Mexican citizens. It will be cheaper – though the estimated $50 price tag for a PASS card (about half the cost of a passport) could be pricy for many – and likely easier to obtain. But it hasn't assuaged the objections of a group of New York and Canadian officials.
DHS promotes it new PASS card
PASS stands for People Access Security Service and is a proposed card designed to meet the Western Hemisphere Travel Initiative (WHTI) requirements, which mandates that by Jan. 1, 2008, anyone entering the United States, including U.S. citizens, have travel documents that prove their identity and citizenship.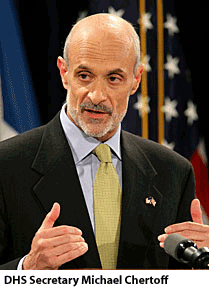 The PASS card is part of a three-part program unveiled in mid-January by Secretary of State Condoleezza Rice and Department of Homeland Security Secretary Michel Chertoff. This "vision" includes improved technology, new travel documents, and improved – what the DHS calls "smarter" – screening methods.
Secretary Chertoff said the PASS card "will be particularly useful for those citizens in border communities who regularly cross northern and southern borders every day as an integral part of their daily lives. We're talking about essentially the kind of drivers license or other simple card identification that almost all of us carry in our wallets day in and day out."
It was the driver license, in fact, that many –including tourist agencies in Canada and New York – wanted to see used instead of the passport.
Secretary Chertoff confirmed that the new PASS card would meet WHTI's travel requirements. He called the new card an "inexpensive secure travel card for land border crossings…" and that people would "not necessarily…(have to) have passports of the traditional kind."
"We want to ensure that everyone who would like this card will be able to get it," said DHS spokesperson Kimberly Weissman. She said DHS is "working closely with State to collaborate on outreach efforts so people can know where they can get this card."
Passport offices are the logical first choice but there would have to be other locations as well, she inferred. And while DHS/State hope to have the PASS card available by the end of this year, the actual deadline isn't until Jan. 1, 2008, she added. "What we're trying to do is phase it in."
DHS has not yet determined what type of biometric would be included. But it's likely there would be a photo on the card as well as a digital finger scan, said Ms. Weissman.
Even the card's cost isn't settled. "The passport is currently $97 with new biometrics and what we said publicly is that the card will be at least half that cost. The cost of this card can't be so high that it's untenable," she added.
The card will also just be good at land borders. "If you intend to fly, you will still need a passport," she said.
Existing travel cards may also be accepted
She said DHS and State are also looking "at the viability" of being able to use other border crossing-type cards currently in existence. "We're looking at what's out there and if they can be used to meet the 2008 deadline."
These include the BCC (border crossing card or laser visa currently in use on the Mexican border); FAST (Free and Secure Trade); NEXUS (a joint customs and immigration program between Canada and the U.S. for pre-approved low-risk travelers); and SENTRI (Customs and Border Protection Secure Electronic Network for Travelers Rapid Inspection). But whether these options will meet the security requirements of WHTI is questionable.
Opponents speak out from both sides of the border
Opposition is continuing from the border states (primarily in the north) and Canada. Last fall, New York State and Ontario legislators from the bi-national Niagara Region urged the U.S. government to find an alternative to a proposal that they then envisioned would require Canadians visiting the U.S. and Americans returning home from a visit to Canada to have a valid passport when crossing the border. Such mandates will severely impact commerce and tourism between the two countries, not to mention border crossing delays, they said.
The group has reeled off a series of stats that seem to support this claim:
Canadians visited New York State almost 2.3 million times and spent $487 million on trips there in 2004, while New Yorkers made more than 1.9 million trips to Canada.
New York and Canada boast the largest bilateral tourism industry in the U.S., with residents from both places crossing the border an average of 11,343 times per day.
In 2004, 16.5 million passenger vehicles crossed the border at just seven of the 17 land ports of entry between Canada and New York, and 89,000 buses crossed at just four of those ports.
Canada is New York State's primary export market, with $30.2 billion worth of merchandise and goods exchanged during 2004.
Even before the PASS announcement, the group said the suggested alternative of a "secure border-crossing document" that people would have to apply and pay for "would be no less a barrier than a passport. Both approaches would discourage large numbers of Canadians and Americans from crossing the border…" They also suggested that increasing the security of a driver license, that citizens of both countries have, would be a better alternative.
The recently passed Real ID Act mandates standardized driver licenses from state to state, but a time-line for implementation hasn't even be set. So it's unclear what will be required under the rules.
The PASS card "is an improvement over the passport but it's not where we want to be," said Ken Berlinski in New York Assemblyman Robin Schimminger's office. "What are we talking about in price? I've heard $50. That's still too expensive."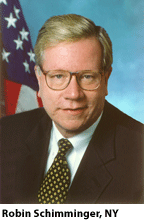 Mr. Schimminger, who represents the Niagara area, was joined by representatives from a bi-national delegation from the Council of State Governments' Eastern Regional Conference when they met with key congressional and administration officials in Washington following the PASS announcement.
One of the meetings was with U.S. Sen. Susan Collins from Maine. "I suggested she pose to Mr. Chertoff the following question," said Mr. Schimminger. "It's all well and good that law-abiding citizens pay good money and get a PASS card, but how does that stop someone who doesn't get a PASS card from simply walking across the more than 600 miles of potato fields and forests of Maine?"
In a meeting with Sen. Patrick Leahy (U.S. senator from New York), the senator suggested that "the solution to this problem really must involve the new (Canadian) Prime Minister (Stephen) Harper at his first meeting with President Bush … the top issue being this impending PASS plan," related Assemblyman Schimminger. That could, perhaps, lead to a postponement of WHTI mandates, he added.
The assemblyman said he also was uncertain just how much communication was going on between the U.S. and Canada. "We were a little bemused because we were told that they (DHS/State) were working closely with the Canadian government, which was news to them … (according to) my partners in our visit."
He added: "Having been immersed in this for two days, I came away with a pretty clear opinion that this PASS card would be highly burdensome and marginally effective. It, in fact, would be costly and lead to long lines and wide spread confusion."
Another issue is children: would they be required to have a PASS card? Mr. Schimminger said that in his meeting with DHS officials they "kind of begged off on that question."
The assemblyman is also wary of the time constraints. "The reality of it is they are working on a very short time frame – January 1, 2007 for air and water and January 1, 2008 for border crossings. They have to have readers at all these locations, they have to educate the public and get the card in the public's hands and maybe create additional lines at land crossings for people to pull into to show their card. It's a nightmare."