New Fargo president lays out company's direction as part of HID Global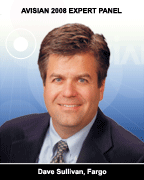 By Andy Williams, Contributing Editor
Fargo Electronics' merger with HID Global last year was just the beginning of what officials at both companies see as a bright future for the secure card identity systems company. Fargo Electronics' new president, David Sullivan, fresh from a stint in Europe, wants to grow the company, not only in the U.S. but internationally. The fact that HID Global turned to a person with more than a few years' experience in the international market certainly foreshadows this move.
Mr. Sullivan began with Hughes Identification Devices, a subsidiary of Hughes Aircraft in 1994. Later when the company became a subsidiary of Palomar Technological Companies in 1995, it changed its name to HID Corp. Five years later, it became a part of the ASSA ABLOY chain of companies and has since been renamed HID Global.
Fargo was founded in 1974 in Fargo North Dakota as a manufacturer of specialty printers. In February of 2000, Fargo became a publicly traded company and concentrated its product line on secure technologies for identity card issuance systems, including ID card printers, encoders and materials. The company merged with HID in August, 2006.
"I started as a regional sales manager for HID," said the 46-year-old Sullivan. "Then I went on to become North American sales manager." He eventually migrated to Europe to head up a sales team for "several ASSA ABLOY companies, one of them being Indala (a contact/contactless smart card producer). At HID Global, I was managing director for Europe, the Middle East and Africa."
"Dave has a long history of success with HID and in the industry," said HID's President/CEO Denis Hebért when he announced the promotion. "Like Fargo, our EMEA division was a well-established enterprise. Dave strategically positioned the business and accelerated the growth beyond its previous success."
One of Mr. Sullivan's main goals is implementing international expansion objectives within Fargo. His experience in the European, Middle East and African markets can accelerate this process, he said.

"We plan to take advantage of HID's global footprint in order to better serve our international customers. Fargo has done a fantastic job of building an international presence without any international offices, but now we're putting our products and people into distribution centers internationally."
Previously, Fargo relied on US-based staff to manage their international business. "We only had one employee in Europe," he said. "We have never had anyone in Asia. Now, we're hiring additional people in the UK, Hong Kong and Latin America. We also have HID offices in England, Hong Kong, India and China and by the end of the year we'll be distributing Fargo printers from those locations."
In addition to his international experience, Mr. Sullivan sees his time spent on the HID side as an asset to his current job. Access control manufacturers often include credential personalization systems in their packages, like a desktop printer that prints the cardholder's image to the access card, he said. "By working in conjunction with HID, Fargo will be able to accelerate our opportunities with those access control manufacturers."
With the emphasis on security today, it's no longer about simply printing an ID badge from a printer. "You take a photo ID badge and integrate it with the entrance doors, the network log-on and the time and attendance program," said Mr. Sullivan. "It's much more tied into the total security program."
Why? The tragedies of September 11 not withstanding, "there are a number of reasons. It goes back to increased attention being paid to ID management and security related to identity. You see that now at the government level with Real ID, CAC (Common Access Card from the U.S. Department of Defense) and electronic passports," he added.
These are all areas in which Fargo is involved. "We print to plastic making the driver licenses (key to Real ID compliance) as well as the badges. The opportunity with increased technology in cards is that you can load multiple applications on the card, so that it includes the credentials, as well as cashless vending or other value on the card, or even biometric templates that can be stored on the card. All these applications require you to program them onto the card. It makes sense to do this at the same time that you're printing the badge."
Put another way: "By incorporating HID's (security and contactless) encoding technology inside the printer, the end user benefits from the result. He receives a complete badge. "
"You can see, through some of HID's recent acquisitions, such as Synercard (ID card software solutions provider), that there are various components coming together to provide users with integrated solutions. As one company, we can provide more complete solutions." Recently, HID Global rolled its Card Service Bureau, AccessID and Synercard into an "expertise group" called HID Identity.
Mr. Sullivan emphasized that much of Fargo's past agenda will remain, "but we'll refine it with enhancements, our ability collectively to provide more complete and robust solutions."
He concludes, "having HID and Fargo together as one organization, can better serve the marketplace. We're coming together through the photo ID channel as well as through the access control channel, producing more complete ways (that issuers) can enhance their security."