New fingerprint reader brings biometrics to consumer desktops
Eikon from UPEK available from Amazon.com and more
By Ryan Kline, Contributing Editor



The new Eikon biometric fingerprint reader from UPEK has a sleek look to it and is within reach of individual as well as corporate users. At just $39.99 at Amazon.com, it seems a cost effective option to secure a computer with this simple USB add-on device. I gave it a try to see if it really was easy to install and convenient to use …
It was hard to imagine that such a small thin layer of silicon could reliably read a swiped finger, but I had to start getting it installed to find out. Brian DeGonia, Software Product Marketing Manager for UPEK later told me that area sensors (the larger silicon or infrared sensors often seen in movies) are extremely easy to use, but come at a high cost. "When inserting it into a small unit, such as the Eikon," he said, "it is much more cost effective to use a small strip of silicon and have the user move a finger over the reader, capturing the fingerprint."
The Eikon comes with an installation CD and claims to be an easy install. I found that to be true for PC installation, though support for Macintosh is currently not available. But Mac friends, Mr. DeGonia told us; "we are working on Macintosh compatible software right now. It is in the works."
An installation wizard guides you through the steps necessary to enroll and use the biometric reader with the PC. First, you enter your Windows password, and then scan your fingerprint in order to associate the two.
Once the device has been registered, logging in to Windows is a breeze. All you have to do is swipe your finger and Windows automatically detects the reader. Biometric login is as easy as that.
The system allows for multiple users to be registered on one computer. When multiple users registered, the computer automatically logs in the user presenting their fingerprint. The Eikon can be used for fast user switching when someone else is logged in.
Learning to slide
If you can master the "biometric slide," then this strong authentication device can help keep your workstation secure. My challenge from the beginning was to get a good, readable swipe of my finger. I learned that it has to be slow and controlled motion … not too fast and not too far to the right or left. It may take a bit of practice, but I was quickly getting reliable reads on first attempts. For some users it may take several attempts to log in, but if security is what you are looking for, then this is a great affordable compromise.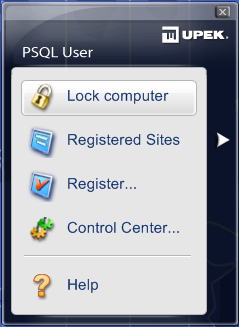 Managing passwords
Do you need help remembering all those different passwords for websites that seem to always evade you when you need them most? The Eikon can help here too. "Our main position is to reach out to people and solve the password problem that haunts so many of us," said Mr. DeGonia. "We also wanted to make the same security available at home that many people have at their work."
The Password Bank allows users to program the Eikon to be used in conjunction with password-protected websites. Registering websites is fairly straightforward. From the web browser, you swipe your finger when you are at an account login screen. This launches the Biomenu applet. Select register on the Biomenu and enter the username and password as normal. When you return to the login page on the site in the future, a swipe of your finger will automatically log you in.
The Protector Suite QL with the Eikon reader has many other add-ons or options as well. Users can encrypt file folders that can only be unlocked with their fingerprint as well as associate a finger to an application so that when you swipe your pinky finger it automatically launches your favorite game.
Security still prevails
Mr. DeGonia said that the Eikon captures "between 20 and 30 points, the FBI only requires 8 common points to confirm a fingerprint match."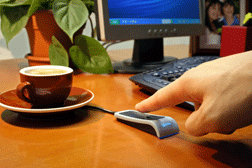 "The Eikon does all of its processing in the reader, so the fingerprint image and the algorithm never use the computer for processing," said Mr. DeGonia. This limits vulnerabilities where attacks could occur within the external PC or networked environments.
The reader can be co-branded, which according to Mr. DeGonia is one of their main marketing platforms, and there already are, "quite a few partners that create applications such as single sign on and hard disk encryption software."
While the Eikon may have slashed prices, it did not slash security. With over 20 points being sampled per each slide of a finger, the biometric authentication is strong. The only drawback I can find is that it may take a bit of practice to get reliable reads, but you just need to learn that "biometric slide."