New government report shows strong progress in agency smart card projects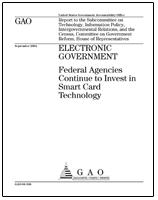 Smart cards are alive and well in Washington, D.C. even though some 28 projects have disappeared in the past 18 months.
That's the one-line summary of a 30-page report issued in September by the U.S. General Accounting Office (GAO), the audit, evaluation and investigative arm of Congress. The document was named for the conclusion it reached–Electronic Government: Federal Agencies Continue to Invest in Smart Card Technology–to which can be added that agencies have plans to issue millions of new cards to employees and other personnel in the coming months and years.
The report was written for a subcommittee of the House Committee on Government Reform. The subcommittee's name is almost as long as the report: Subcommittee on Technology, Information Policy, Intergovernmental Relations, and the Census and is chaired by Florida Congressman Adam Putnam.
The GAO was asked to update its last report, issued in January, 2003, "on the progress made by the federal government in promoting smart card technology." The GAO's objectives were to: "(1) determine the current status of smart card projects identified in GAO's last review; (2) identify and determine the status of projects initiated since the last review, and (3) identify integrated agency-wide smart card projects currently under way."
Meeting these objectives involved surveying 24 agencies.
As of June, 2004, 28 of 52 smart card projects named in the last report had been discontinued (mostly because they were no longer needed) or they were absorbed.
Some of the terminated projects were little known, such as the Peanut Smart Card project, which was eliminated when the 2002 Farm Bill ended the peanut program, according to the report. Among other examples of deceased smart card programs listed by the GAO were the National Institute of Standards and Technology's (NIST) Network Security and Access Control project which did not meet its needs and was deemed too costly; and the Financial Student Aid Campus card project, ended because it was incompatible with an existing proximity card system at the Department of Education's headquarters buildings.
The Department of Defense (DoD) accounted for more than half of the terminated projects, not surprising since it has probably the most pilot or operational projects under way.
Eighteen smart card projects were terminated by DoD, but seven of those projects were absorbed by the Common Access Card, DoD's agency-wide standard ID card. So far, according to the report, 2.75 million CAC cards have been issued with another 750,000 still to come. Another three smart card projects were absorbed by EZPay, the Army and Air Force smart card program for basic recruits designed to accelerate recruit processing and maximize training time.
Of the 24 smart card projects still in existence, 16 are in planning, pilot, or operational phases. Twelve of those 16 are large-scale projects intended to provide identity credentials to an entire agency's employees or other large group of individuals, such as the CAC and the Transportation Security Administration's Transportation Worker Identification Credential (TWIC) that will cover about six million transportation workers when fully implemented. Another four projects are smaller in scale, and are intended to provide access or other services to limited groups. For example, the Department of Commerce's Geophysical Fluid Dynamics Laboratory Access Card is to be issued to about 612 employees or contractors.
A stated trend among the newer projects, according to the report, is that agencies are continuing "to move towards integrated agency-wide initiatives that use smart cards as identity credentials that agency employees can use to gain both physical access to facilities, such as buildings, and logical access to computer systems and networks. In some cases, additional functions, such as asset management and stored value, are also being included." Click to view a table titled Agencywide Smart Card Projects in the U.S. Federal Government.
A review of key projects
One such large-scale project is the General Service Administration's (GSA) Nationwide ID card. GSA plans to issue cards to 61,000 federal employees, contractors, and others by providing a single standard credential for identification, building access, property management, and other applications. This program has replaced GSA's original physical and logical access smart card project.
Another large project comes from the Veterans Administration, which "plans to issue an estimated 500,000 smart cards to employees and contractors under its Authentication and Authorization Infrastructure Project. Through this initiative, smart cards will be used for identity credentials, accessing buildings or other facilities, and accessing computer systems. Production
began in July 2004."
A third agency-wide effort is the Department of Homeland Security's identification and credentialing project. "The agency plans to issue 250,000 cards to employees and contractors. This is a comprehensive identification and credentialing effort that will use PKI technology for logical access and proximity chips for physical access. Authentication will rely on biometrics with a personal identification number as a backup."
Positive trends
Several distinctly positive findings were presented in the report, findings that suggest significant maturation of the government's use of ID technology. The report points out, is that some agencies, besides "moving toward integrated agency-wide credentialing projects," are also "planning to consolidate their smart card purchases through GSA's Smart Card Access Common ID contract," which federal agencies can use to procure smart card products and services.
The scale of the continuing projects is growing. "Agencies across the government…plan(s) to issue millions of new cards to employees and other personnel. These projects are intended to provide a range of benefits and services, ranging from verifying the identity of people accessing buildings and computer systems to managing assets and storing monetary value."
And while more than half the projects that were alive 18 months ago are no more (or are part of another program), those that still have life are stronger and more viable than ever before.
---
Additional Resources:
To download a copy of the September 2004 GAO Report (583KB PDF), click here
To download a copy of the previous GAO Report smart card report from January 2003 (640KB PDF), click here