New research aims to eliminate virtual pick pocketing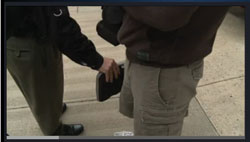 A team of researchers at the University Of Pittsburgh Swanson School Of Engineering have developed a design that enables contactless "tap and pay" cards to turn on and off, making them unreadable by would-be thieves.
Credit cards with contactless smart card chips operate when they are place in an electromagnetic field, leaving them vulnerable. Using an inexpensive portable scanner, thieves can potentially pass a reader nearby, copy the data and charge purchases to the card.
"Our new design integrates an antenna and other electrical circuitry that can be interrupted by a simple switch, like turning off the lights in the home or office," Marlin Mickle, executive director of the RFID Center for Excellence in the Swanson School. "The RFID or NFC credit card is disabled if left in a pocket or lying on a surface and unreadable by thieves using portable scanners."
With this new technology, users would simply hold their contactless-enabled cards in a specified area – for example, on an emblem or some other identifying mark – when making a transaction. As long as the "switch" is held, the card is turned on. When returned to a wallet or purse and tactile contact is discontinued, the card automatically turns off.