New rigid badgeholder blocks contactless signal, gets FIPS 201 approval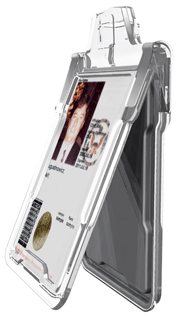 The company that first received listing on the FIPS 201 Approved Product List for a secure sleeve to protect contactless cards has another product available for PIV use. Identity Stonghold's second "electronically opaque" protection device is a rigid plastic badgeholder that holds the card and can be worn around the neck, etc. The contactless signal is blocked when the card is in the badgeholder but the signal can be freed at the user's discretion simply by squeezing the top of the plastic device.
Identity Stronghold's Secure Badgeholder(TM) Receives FIPS 201 Approval
ENGLEWOOD, Fla.–(BUSINESS WIRE)–January 22, 2007–Identity Stronghold announces their Secure Badgeholder(TM) received FIPS 201 approval in the electromagnetically opaque sleeve category for use in securing data on Personal Identity Verification (PIV) cards. Secure Badgeholder is a patent pending rigid badge holder that affords privacy protection by providing a barrier to unknown or unauthorized wireless communications through the contactless interface found on many smartcards today. Secure Badgeholder is also the only shielded badge holder designed to allow card reading without the need to remove the card. By squeezing the activation tabs the card is able to communicate with a reader. As soon as the tabs are released the smartcard is shielded again. The Secure Badgeholder is also designed to hold the PIV card securely in place, yet allow easy, one-handed removal of the card from the badgeholder when necessary.
"We were the first electromagnetically opaque sleeve approved by GSA for FIPS 201. And now we are the first to have a clear badge holder that is fully designed for one handed use, whether its your left hand or right hand, with no need to remove the PIV card for contactless operation. We look forward to working with agencies and contractors implementing FIPS 201 systems to meet all their needs in the required electromagnetically opaque sleeve category," states Walt Augustinowicz, COO and founder, Identity Stronghold.
The Secure Badgeholder is available directly from Identity Stronghold (http://www.idstronghold.com) and will be on GSA schedule shortly.
FIPS 201 requirements for an electromagnetically opaque sleeve:
2.4 PIV Privacy Requirements
Ensure that the technologies used to implement PIV sustain and do not erode privacy protections relating to the use, collection, and disclosure of information in identifiable form. Specifically, employ an electromagnetically opaque sleeve or other technology to protect against any unauthorized contactless access to information stored on a PIV credential.
About Identity Stronghold
Identity Stronghold is the designer and manufacturer of the RFID blocking Secure Sleeve and Secure Badgeholder, patent pending products designed to shield unauthorized access to contactless information stored on PIV cards, CAC cards, TWIC cards, First responder cards, credit cards, passports, and other contactless smartcard applications. For more information on Identity Stronghold visit http://www.idstronghold.com

Compare FIPS 201 Products
Research and evaluate FIPS 201 Approved Products and get the latest info on compliant credentialing systems at FIPS201.com.
Click to visit FIPS201.com
.