New smart card with NanoChromics display said to increase functionality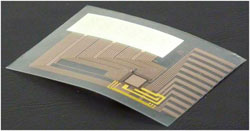 GSI Technologies and NTERA have developed a card based on NTERAS's NanoChromics display technology that was developed by GSI Technologies.
The result is the first hot-laminated display card modules. The display is printed onto the same flexible substrate as the microcontroller and features a white background. The color changing NTERA NCD displays address the market need for security solutions, brand protection and consumer interaction with the GSI smart card.
The full printing of the NCD display eliminates the number of steps of implementation. This lowers the cost of implementation is designed to increase the quality of the smart card.
Applications to be included on the card include two-factor authentication solutions like one-time-passcodes, financial credit/debit cards, transportation cards and other stored value cards.