New thin batteries give juice to secure card-based transactions


By Marisa Torrieri, Contributing Editor
Sure, One-Time-Password (OTP) devices are cumbersome. But hackers are relentless and pervasive. What's a U.S. bank with fussy consumers to do? One answer: in lieu of a dedicated OTP apparatus, issue credit cards with ultra thin batteries, specially designed for insertion into cards, and capable of driving powerful transactions … such as generating numeric passwords ala OTP.
As the demand (and need) for more sophisticated and secure technology grows, vendors that had been tinkering away on shrinking and implanting batteries into cards are getting lots of attention.
A number of these battery makers are experimenting with different technologies that will work between the laminated surface of cards so two-factor authenticated transactions will not only be possible, but easy.
Enter Solicore, one of the most heralded purveyors of power sources for cards. The company's flagship product is the ultra-thin, flexible lithium-polymer batteries called "Flexion."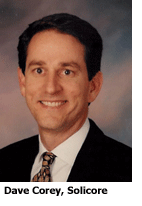 Before now, making a battery thin and flexible enough to fit into a credit card was more pipe dream than reality. In addition, the other powered card components (displays, buttons, etc.) weren't at a level of maturity and development that were required in the hot lamination process, explains Dave Corey, CEO.
The basis for the battery, a patented solid-state electrolyte, provides portable power solutions for numerous products, including smart cards, RFID tags, and medical devices. These tiny batteries are also ideal for novelty items and flexible display products – they won't break if they bend a bit. Flexion batteries operate over a wide temperature range and are ideal for high temperature manufacturing, such as the hot lamination process often used in the production of credit cards and smart cards.
What makes it possible, says Mr. Corey, is the development of an advanced, patented polymer material that significantly enhances the capabilities of lithium-based batteries. Solicore produces this polyimide material and their thin film batteries on a high-speed production line at its Lakeland, Florida, manufacturing facility.
"Our battery is not designed for high drain applications, like cell phones," says Mr. Corey. "We've optimized our products to be really thin and flexible. Part of issuing a card is conformance to ISO standards and our batteries withstand the rigor of all these tests."

Other technologies for thin batteries are also emerging
But it's not just lithium-polymer batteries that are in this space. Others are experimenting with different materials, which may be just as sturdy and ready to be placed alongside flat displays and microprocessors, for ready-to-use cards.
Enter Thin Battery Technologies (TBT), a 12-person company spin-off of Eveready Battery Company. TBT makes flat, flexible, disposable batteries with a carbon-zinc technology base, an alternate to the lithium-polymer batteries, says Leonard Allison, VP of business development.
The smart card market is a secondary target; a bigger market application for TBT's product is data loggers, an RFID technology with time-temperature indicators. Data loggers are about the size of a credit card and contains an RFID chip to measure and record temperature of goods. The logger apparatus is increasingly being used for goods being shipped in the cold supply chain; thus it needs to be powered with a durable battery.
"Our battery works especially well, down to minus-thirty-degree Celsius," Mr. Allison says. "It doesn't interfere with the RF signal."
"It's one of the oldest technologies around," he continues, noting that because TBT's signature batteries combine carbon and zincs, they have the advantage of being able to be printed in the same facility as the card is manufactured. Often times, says Mr. Allison, lithium batteries must be made in unique manufacturing environments.
Mass producing OTP cards – with battery, microprocessor, and display components within a card encasing – can be done at rapid speed, he says. And because "the chemistries are cheaper than lithium, [they are] easily scaled." Other advantages, adds Mr. Allison, include easy landfill disposal.
More applications of thin batteries
Though OTP cards are a major focus of thin battery manufacturers, there are other applications that have and will be used in the future. Any application that requires an on-card display is certain to require a power supply. Beyond OTP, displays could be used for electronic couponing or loyalty applications, data storage and retrieval, and ticketing. Batteries have been used to drive small light sources built into credit cards, to power audio signals, and more.
Until recently, on-card power supplies have been in-the-lab only. With recent advancements in thin, flexible batteries however, expect to see powered cards serving a whole host of functions identified and yet unimagined.