New Zealand moves forward on national livestock ID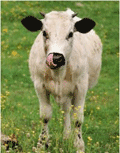 It looks like the New Zealand government is finally moving forward with its plan to deploy an electronic national livestock identification system, according to Beef Central.
The proposed National Animal Identification and Tracking project states cattle producers will be required to tag cattle with NAIT-approved RFID tags starting in July 2012. The program will officially launch in February, giving producers four months to get on the NAIT program. In addition, deer producers will join the program in March 2013.
The mandatory date was set after receiving cross-party support in Parliament. Executives said the project would assure overseas markets that livestock disease can be quickly contained in the event of any disease outbreak. The system could also be used by farmers to improve farm management, and by retailers to provide consumers with more information about meat's origin.
It has been estimated that approximately 9.8 million cattle will have to be electronically tagged and registered online in the three years after July 1, 2012.The project will be implemented and administered by NAIT Ltd, a company owned by Beef + Lamb New Zealand, DairyNZ, and Deer Industry New Zealand.
Read the full story here.