NFC enables communication from beyond the grave

Visiting gravesites to remember loved ones after they have passed away is a tradition for many families. But as the years go by remembering those individuals can be difficult. But no longer with RosettaStone.
The product from Phoenix-based Objecs LLC places a near field communication (NFC) chip into a granite or travertine stone that can be used to launch text about or images of the deceased. If a visitor doesn't have an NFC-enabled phone, Web-enabled devices can be used to display the information by entering a unique ID. The company is limiting the information to pictures and text, with no plans to add video.
The chip in the stone doesn't actually store the information but instead acts as a pointer, says John Bottorff, owner of Objecs. The idea came out of a project Objecs did for a Portuguese tourist attraction that communicated information about military graves to visitors.
Research into the memorial market in the U.S. showed bar codes being used, but these required a user to download specific software to a mobile device, Bottorff says. While RosettaStone requires an NFC-enabled device, it doesn't require any additional software.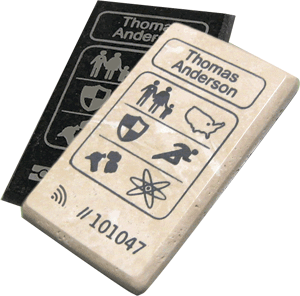 The front face of a RosettaStone has engraved hieroglyphic symbols, called Life Symbols, that an individual selects during the order process from a list of options that best represents your key life associations. Symbols represent being family status, career path and hobbies.
Setting RosettaStone apart from other memorial tributes is its long-term data archive strategy, says Bottorff. The company's solution is to mitigate this risk by sharing master copies of data file elements within a business-to-business data archive network. If one network business fails the data survives in another master copy. Some sites act as a single custodian, which may put the data at risk if the site goes out of business.
Green burials
The RosettaStone also fills a market niche for those wanting a green burial. These ceremonies consist of an ash spreading service or the individual being buried in a pine box with no headstone. The travertine marker can be used as a memorial gift for loved ones to remember the departed. The granite marker is designed to be attached to a headstone and could last as long as 3,200 years.