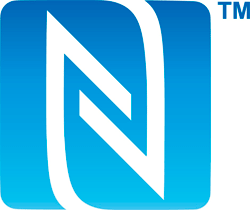 The NFC Forum has unveiled its "target mark," what its chairman called a "milestone in the global commercialization of NFC technology." The new N-Mark, introduced during an NFC Forum Web cast today, is designed to show consumers where they need to touch to activate the NFC interaction.
The NFC Forum N-Mark is available to anyone for download free of charge from the NFC Forum Website here, via a click-through license. NFC Forum N-Mark Trademark Usage Guidelines are provided with the N-Mark, and users must follow the guidelines for implementation to ensure global consistency.
Innovision's Julia Charnock, Marketing Communications Working Group chair for the Forum, said these trademark specs also include the color, a shade of blue. The N-Mark can also appear in black and white, she said.
"The N-mark should be placed in an easily accessible area," Charnock emphasized during the Web cast.
She also said the Forum "won't be promoting the N-Mark to consumers. It's a tool for end users so they'll be supporting it themselves."
Within a year, the Forum is slated to issue a certification program along with a certification mark that will have to be added to all devices that pass compliance testing, said Dino Bekis of Broadcom, NFC Forum Compliance Committee co-chair.
"The ability to read information stored on embedded tags is one of NFC's essential capabilities, which also include enabling contactless payments and file transfers between devices," said Koichi Tagawa, chairman of the NFC Forum. "Because it marks the opening of a new world of information to consumers, the launch of the NFC Forum N-Mark is a key milestone in the global commercialization and promotion of NFC technology."