NFC shopping hub opens in Seoul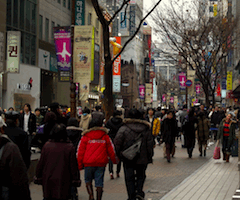 The Grand Korea Alliance has opened an NFC shopping center in Seoul's busiest commercial district, according to NFC World.
Shoppers in the South Korean capital can now head to the Myeongdong district to make NFC-enabled mobile payments at some 200 merchants, as well as download coupons from NFC smart posters, receive public transit info from tags at bus stations, and even place drink orders at restaurants with the tap of an NFC-enabled phone.
The initiative will also aim to replace paper receipts with electronic ones based on standards from the Korean Electronics and Telecommunications Research Institute (ETRI). According to NFC World, these "smart receipts" will be sent directly to the user's NFC phone upon completion of each transaction.
The Alliance, which is comprised of Korea's leading mobile network operators, phone manufacturers, card issuers and government agencies, will run the pilot from now until the end of January.
Further trials are scheduled for the coming year, covering peer to peer NFC payments for merchants, public transit ticketing, and even a project at Seoul's Incheon airport, says NFC World.
Read more here.