NFC timeline progresses rapidly via trials, products, and specs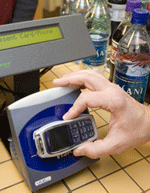 By Andy Williams, Contributing Editor
NFC may still be an industry buzzword despite numerous pilots and at least one commercial implementation in Germany. But, according to NFC pundits from NXP and Nokia, that's the plan. Get the industry involved and John Q. Public will follow.
"NXP (formerly Philips Semiconductors) has achieved significant industry awareness about NFC since its introduction as a new technology back in 2003," said NXP's Taoufik Ghanname, marketing manager, Near Field Communication, Consumer and Multimedia (Philips Semiconductors was one of the NFC developers).
"While it may appear that NFC isn't going on quick enough, I can assure you that hundreds of trials are underway, say 30% in the U.S., 30% in Europe and 40% in Asia," added Mr. Ghanname.
Those trials, he said, converge in two areas: wireless carriers and other value chain players like public transport companies.
For example, the recent Philips Arena trial in Atlanta, which allowed sports fans to use NFC-enabled Nokia 3220 phones to pay for snacks at the concession stand, gave the industry some good feedback on what's needed in the future, said Tom Zalewski, director of payment and ticketing for Nokia America.
The Philips Arena trial that involved Visa and several wireless carriers, "was a well-defined system with season ticket holders purchasing concessions with their phones, or they could walk up to a poster and get real time information on a player who might have been pulled from the game due to an injury," said Mr. Zalewski.
He said Nokia has also studied the various transit business models (the commercial rollout earlier this year in Hanau, Germany, for example, where NFC phones are capable of serving as transit tickets, or a similar trial currently underway in New York). "The ability to touch a poster to purchase a ticket and have that ticket sent to your phone, it's certainly a lot more convenient."
PR and more PR needed
Mr. Ghanname predicts that the first major commercial rollouts will be by wireless carriers "conducting aggressive consumer education about what they can do with NFC. In some cases they do not need to use the terminology 'NFC' as such. NFC will open various applications that will have different names. At the end we want to simplify the consumer experience around mobile and consumer devices."
Generally, he added, the feedback "we're getting now is to be more aggressive at educating consumers."
"We are changing focus to more public relations. We have to work on concrete projects. We also plan to show off NFC phones, along with our partners, at exhibitions, at major consumer trade shows," he said.
"As a first step we have been educating the industry and value chain players about NFC and how it can benefit their customers," added Mr. Ghanname. "We now have more than 80 members from various industries in the NFC Forum and each player is promoting NFC in its way."
Finally, specs are here
The NFC Forum a couple months ago issued NFC specifications in attempts to standardize the technology. "Many manufacturers have been awaiting the release of the specs," said Mr. Ghanname. "They provide for the first time a common data exchange format for applications. So based on the common data formats, applications can now be developed that are vendor independent and cross-platform compatible." These new specs also provide a way to implement smart poster/smart object applications, which are used in many of the current sites, he added.
He said more work is progressing for specs on NFC-compliant tags "leading to a further simplification of software development for a broad variety of devices, as the same source code can then be used for different platforms."
NFC will soon reach the next level. "That will happen by the end of this year. I see more products out there on the market. We expect by 2007 to see rollouts in the U.S. and Asia. ABI Research expects 50% of mobile phones to be NFC-enabled by 2010. That's possible now since contactless has really taken off," said Mr. Ghanname. "We already see today small scale commercial rollouts in some countries."
New NFC phones coming
Required for these trials and rollouts will be new NFC-compatible phones. While the Nokia 3220 was used in the Philips Arena trial because it was compatible with an NFC shell that could be affixed to it, "the phones we're coming out with next will have this functionality built in," said Mr. Zalewski.
He added: "If you think back 10 years, there were no cameras in phones, no MP3 players. Ten years from now, many phones will have NFC functionality. The interesting thing with NFC is that it was one of the first technologies to bring together stakeholders from different industries, financial institutions, wireless carriers. When looking at having a device used as a transaction enabler, they're not a bank or an issuer, so they have to work with carriers."
By incorporating this functionality into the phone, stakeholders have to come together to determine what's best for them and the consumer, he added. "Access control and tickets have to be done in a very secure fashion, having the real time ability to do this sort of thing. It's certainly coming."
'Over-the-air' is key to future of NFC
One of the issues with which companies have had to deal is what Mr. Zalewski calls "over-the-air" management of this data that is being sent wirelessly.
Recently, International technology group Giesecke & Devrient, Munich, Germany, and Nokia formed a joint venture to provide secure management services for NFC-enabled mobile devices. This venture will allow mobile operators, transport operators, retailers, banks, credit card companies and others to offer their services and applications to consumers with NFC-enabled mobile phones, such as downloading transit tickets over the air to their cell phones.
Over-the-air management of the consumer applications is a critical part for the emerging NFC ecosystem, and the joint venture will work closely together with other stakeholders when bringing these services to the market. The joint venture is expected to commence operations in the fourth quarter 2006.
Rapid progress poised to continue into 2007
Mr. Zalewski believes that NFC, "like Bluetooth, will pick up pretty quickly." Bluetooth allows mobile phones, computers, and personal digital assistants, and other devices to be easily interconnected using a short-range wireless connection.
"Maybe I'm three years ahead of the curve. It's just a matter of how it's marketed, who the stakeholders are. One major advantage with NFC, is that "there's revenue-generation capability for the stakeholders, such as the banks," he added.
NFC has already addressed some of the critical issues, such as security, he points out. "Earlier trials had no way of locking the phone. Now with NFC, you can have a pin number and lock the phone. You also have the ability to store multiple credit cards."
"Now it's simply a matter of developing the business models between the stakeholders," concludes Mr. Zalewski. "It's going to be an exciting time in the next few years."
NFC evolutionary timeline:
2002: Philips and Sony invent NFC.
2004: NFC Forum established.
2005: Field trials become prominent.
2005: Commercial phone available.
2006: NFC Forum reaches 80+ members.
2006: Commercial rollouts expected in at least two regions.
2007: NFC specification on most high-medium end phones.
2010: NFC in 50-percent of phones (ABI Research).
Source: NXP