No change, no problem with smart card enabled parking meters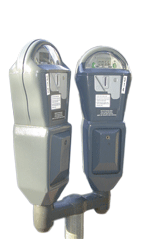 Solutions like that from Parcxmart can save municipalities money and increase customer convenience
By Ryan Kline, Contributing Editor
Since the conception of the on-street single-space parking meter in Oklahoma City, Oklahoma by Carl C. Magee in 1935, people have been reaching deeper into their pockets to feed the meter. But in a world where non-cash payments have become the norm, many believe the time has come for parking meters to dispense with the coins. There are nearly 500 million in the United States alone, so the challenge is great but so too is the opportunity. If every parking meter in the U.S. collected just $2 per day, the gross revenues for a single day would reach a staggering $1 billion.
Parcxmart creates smart card-based payment solutions for municipal parking. It offers a multi-application smart card platform that integrates with existing electronic funds transfer (EFT) networks. The company's parking payment solutions are deployed in Bridgeport, CT, New Haven, CT, and Truckee, CA.
Parcxmart is launching several new city parking solutions throughout 2007, including first quarter pilots in Ft. Lauderdale, FL, Newark, NJ, Baltimore, MD, and an undisclosed number of smaller cities in the northeast primarily in Connecticut and Massachusetts.
How the Parcxmart system works
In the Parcxmart programs customers receive the smart card at no cost. They load the card with a set amount of money to be used for parking at all participating meters and garages. The card can also be used for payment at participating merchants. The smart card is viewed the same as cash, if it is lost, there is no replacement. A benefit, according to Mr. Regan, "it is not linked to their name, address, or social security number so they will never experience identity theft or fraud when using our card to buy time at a meter or purchase small dollar goods in our local merchant community."
To pay for parking, the card is inserted into the meter and the desired amount of time is selected. The meter adds time in fifteen-minute intervals on the screen. When the desired duration appears, the smart card is removed. But, just like most meters that have a maximum time limit, the meter can still regulate the space and only allow people to park there for a finite duration. According to Parcxmart, the average purchase in a parking meter is $1.39.
To encourage stores to sell the smart cards for the municipalities, loyalty programs and in-store payment acceptance are offered. Stores that distribute the smart cards can also accept them as a means of payment. Customers who use the smart cards at the stores can receive coupons to be used in conjunction with the card. In Truckee, California, customers who pay for parking with the Parcxmart Card receive a 15% discount. The average purchase, according to Parcxmart, in a retail store or coffee shop is $6.93.
The movement of money between parties in the system
Electronic value is loaded onto the Parcxmart card's electronic purse (e-purse) using a debit or credit card at point of sale (POS) terminal. The terminal, which includes a smart card reader and runs the Parcxmart load application, is made available to local merchants in the communities served by the parking system. The transactions are processed via the existing EFT networks, just like any other over-the-counter debit or credit card purchase.
Transaction data is sent to the Parcxmart Host for processing. The host processes this data and prepares a settlement advice that is sent to the municipality's chosen bank to transfer funds from the cardholder's bank account. Parcxmart never touches the money–it only passes through their system.
Commissions associated with the sale of Parcxmart cards are settled with the merchant, and value associated with the load volume is moved to the Parcxmart Trust Account. The money from the trust account is then used by Parcxmart to reimburse the parking authority for revenue spent at city parking locations. All monetary movement is managed by a bank triggered by settlement advices and timeframes established between Parcxmart, its merchants and the parking authority.
The Parcxmart system is even fully auditable. Parcxmart can provide full reports, even encompassing risk management for the program. Parking authorities are granted access into the Parcxmart Host so that transactions and other related data associated with the program can be viewed.
Advantages of smart card-based parking solutions
The primary driver to switch from a traditional meter system to a smart card capable system is to increase revenue and decrease operating costs. Obviously, the fewer times a city has to physically visit each meter to collect coins, the less expensive it is to operate the system. "All of the cities want to collect less coin and cash and believe our system will enable that to happen once we reach about a 20 percent market penetration rate," said John Regan, President of Parcxmart. After the first 90 days of operation in New Haven, Parcxmart was at a ten percent penetration with a steady trend upwards, he suggested. "We believe we will be over 20 percent end of first quarter (2007)," continued Mr. Regan.
According to Parcxmart, "With a secure smart card payment option, you minimize the use of coins and cash, and in the process the possibility of fraud is decreased and the reasons for vandalism are diminished."
The Smart Card Alliance Transportation Council also acknowledges advantages in implementation of a smart card application for collecting payment at meters: "If implemented properly, a smart card system can allow a city to increase revenues dramatically. The city can increase rates on existing meters without incurring the high initial replacement costs associated with implementing a completely new system."
Customer convenience through interoperability
With an independent card distributor and back-end-operator like Parcxmart, the potential for an interoperable, multi-city system emerges. One day, consumers might be able to use their card at any meter or garage nationwide that is part of the network.
"We have just begun our first interoperable city program between Bridgeport, CT and New Haven, CT. Bridgeport will not finish rolling out until end of February so it is too early to tell (how many people actually use the cards in an interoperable fashion.) We will see this happen in southern Florida and northern NJ soon. Anecdotal information from lawyers who work in both courthouses in Bridgeport and New Haven have stated to staff they use their cards in both cities all the time."
But when individual municipalities distribute their own card and manage their own system, consumers might need different cards to park in neighboring cities.
Many municipalities, in the U.S. and around the world, issue their own smart cards as a parking solution for their city. According to the report, "Smart Cards in Parking" by the Smart Card Alliance Transportation Council, "in New York City, the Department of Transportation has been issuing contact smart cards to pay for parking since the summer of 1998. The cards are prepaid and sold as disposable cards. As of late 2005 over one million cards have been circulated at a rate of about 25,000 cards per month."
Because these systems are created for use in the one locality, they are not interoperable with other smart card parking systems. The report continues, "Historically, adoption rates for these smart card systems have been low. Many cities record usage rates in single-figure percentages. Low usage rates have been attributed to the lack of an effective card distribution and reload infrastructure, the lack of an effective card marketing plan (for which cities typically lack budget and expertise), and the fact that the cards can only be used to pay for agency-specific parking (unless otherwise negotiated)."
The elimination of change in the parking sector is certainly not an easy task, nor is it one that is certain to occur. Using smart cards does enable municipalities to lessen the amount of change they must collect, but until usage reaches significant levels, it is simply an alternative method of payment that requires additional effort and cost to support.
The ideal scenario would likely involve an online, networked meter infrastructure much like the global point of sale networks. But that is unrealistic due to the high costs, unsecured environments, and lack of power at on-street parking locations. Off-line payment platforms, like the one offered by Parcxmart, are much cheaper to initiate and do hold the promise of operational cost savings and user convenience.

---
Parcxmart has roughly 5,000 cards in circulation, mostly in New Haven. There are more than 3,000 metered spaces accepting Parcxmart cards. 2007 is the first year of post pilot operations in New Haven. Parcxmart is predicting to have about 100,000 cards in circulation by 2008.
---