Nordic ID's compact RFID reader, the Nordic ID Morphic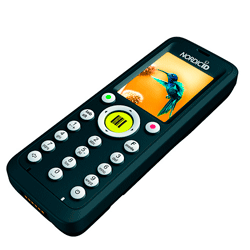 Nordic ID, a manufacturer of handheld computers and terminals, present the Morphic mobile computer with an ultra-high frequency RFID reader. For data collection and voice communication purposes the Nordic ID Morphic offers a range of functionalities bundled into a small form factor package.
The Nordic ID Morphic RFID offers an electronic product code Gen2 ultra-high frequency RFID reader with an output power of a 100 mW, enabling it to read tags from a distance up to 70 cm.
The handheld runs on the Windows CE 6.0 operating system with 256MB of RAM and 128 MB of Flash memory and the expansion SD card slot; offering several wireless communication options such as CCX4 approved WLAN/WWAN, Bluetooth and GPRS/Edge.
In addition to RFID, a laser scanner or 2D imager is available.