Not all are created equal: Contrasting optical and silicon sensors for fingerprint biometrics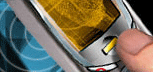 Nearly everyone knows that fingerprints are unique but fewer know that fingerprint biometric readers are very different as well. Most people are familiar with the more common optical biometric readers from Hollywood's portrayal of biometrics in film and television. But fewer know of the rapidly growing use of silicon-based fingerprint sensors. The significantly smaller size requirements of these newer sensors are bringing biometric security to laptops, PDAs, mobile phones, and even ID cards.
The goal of any fingerprint biometric sensor is to capture a representation of the finger so that an algorithm can be applied and a numeric template created. It is this template that is created and stored at them time of enrollment and later used to verify the individual (or the individual's finger) in the future. The most common methods used to capture this image of the fingerprint rely on either optical and silicon technologies.
Optical and silicon sensors: How each function …
The oldest and most widely used system for fingerprint biometrics is optical technology. Optical systems capture an image of the fingerprint by measuring reflected light. The finger is placed on a glass plate and a light source is applied. The light is reflected and dispersed differently by ridges and valleys in the fingerprint. A prism and lens inside the reader focus the reflected light at a charged coupled device (CCD) that forms the image.
In a silicon sensor, the finger is placed directly onto or swiped across a thin piece of silicon that contains thousands of tiny capacitors. Each individual capacitor has the ability to sense the presence of a unique ridge or valley point. When pieced together, these individual data points create an image of the full print.

Silicon sensors (sometimes called solid state sensors) use a variety of different properties or capacitance to measure the points. Electric charge, thermal differences, and radio frequency measures are among the techniques employed by different readers and product manufacturers.
Traditionally, silicon sensors measure just 1 cm x 1.5 cm and are just 1 mm deep, noted Gary Ross, NCR Corp., in the report titled "Biometrics: A Self-Service Viewpoint." "Although the size is small for biometric sensing," he adds, "it is huge compared to most silicon chips."

With chips, a larger physical size equates to a larger expense. Individual chips are created from a larger wafer, so the smaller the chips the more that can be generated from a single wafer. This has helped to lead to the silicon swipe sensor. With a swipe sensor the silicon is thinner and the finger is moved across the sensor rather than placed on it. The finger image is created from a series of thin images captured as the swipe occurs.
Comparing optical and silicon sensors
Of course, when generalizing about competing technologies one can always find dissenting opinions but in general the following can be said of the fingerprint sensor types:
Optical sensors are more durable and resistant to damage from vandalism and improper use thus making them ideal for public use, high traffic applications. Silicon sensors are extremely compact making them ideal for integration into consumer electronics where size constraints are critical. Both sensor types, as they exist in mass production today, are capable of capturing images of sufficient quality for use in the majority of biometric-enabled applications.
Of course there are exceptions and these generalizations are likely to morph as technology changes with time. The size of optical sensors has decreased over the years and silicon sensors are being deployed in high traffic applications (e.g. access control readers). Manufacturers of silicon sensors have been working to improve the durability of their products. According to Mr. Ross, "coating of the chips has improved durability to about the same as that of optical systems."
The following table attempts to categorize some of the major strengths and weaknesses of the two technologies.
Strengths of optical sensors:
Time tested and widely deployed
More resistant to vandalism
Intuitive to the user
Weaknesses of optical sensors:
Latent prints from prior users can impact accuracy
CCD deteriorization
Strengths of silicon sensors:
Smaller in physical size
Require less power to operate
Lower cost
Weaknesses of silicon sensors:
More susceptible to damage, fragility