NSPO taps ODIN for missile monitoring program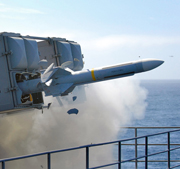 The NATO SEASPARROW Project Office has selected ODIN as their RFID partner in a new initiative to reduce costs of maintaining the SEASPARROW missiles.
The program entitled Health Monitoring of the Evolved Sea Sparrow Missile leverages ODIN RFID to capture temperature, humidity, shock and vibration data. The ODIN solution offers accurate results in strict conditions and prevents accidental detonation by meeting stringent Hazards of Electromagnetic Radiation to Ordnance compliance.