NYC and Utah pioneer use of bank-issued contactless cards for transit fare collection

MasterCard, Visa, and Amex cards replace the ticket in high-profile public transportation trials

By Andy Williams, Contributing Editor
A new way of riding the rails and roads–or rather paying for those trips–may be in the wind at two transit agencies across the country from each other. Both involve contactless payments, but what sets these initiatives apart from contactless fare collection programs around the country and world is the use of branded payment cards (e.g. MasterCard, Visa, American Express).
Most transit agencies–or their vendor of choice–issue their own cards, process their own transactions, and handle their own settlement. But what if this effort was handled by traditional payment card issuers and processors? That is the question that transit managers in New York and Utah set out to answer.
New York City, operator of one of the largest public transportation agencies in the world, is in the midst of one such pilot in some of its subways. It recently extended that pilot by at least six months and is getting ready for a second trial involving buses. The Utah Transit Authority (UTA) completed their pilot last fall on the buses that take skiers and employees up to four of the state's ski resorts. That same trial will continue this fall while UTA prepares its infrastructure for a full-scale rollout of contactless payments.
While a lot of geography separates both systems, they do have a link: Craig Roberts, UTA project manager, and Paul Korczak, New York City Transit's (NYCT) assistant chief officer for the MetroCard, co-chair the Smart Card Alliance's Transportation Council.
"Both trials worked out very well," commented Randy Vanderhoof, executive director of the Smart Card Alliance.
The two systems have different types of riders with different needs. New York's transit system has one goal in mind: getting its passengers from Point A to Point B, often during heavy morning and evening rush hour. UTA is looking to provide better services to students, employees with company ID cards, and even federal agencies supplying the FIPS 201 compliant ID cards.
"What they were trying to do (in New York) is a proof of concept to show that an account-based fare system can be operated cost effectively and with a financial institution partner where the transportation authority acts as a merchant rather than a card issuer," said Mr. Vanderhoof. "This is a fundamental change in the transportation model where a transportation organization issues their own cards and settles their own accounts."
The New York experience
In July 2006, in partnership with MasterCard and Citibank, the Metropolitan Transit Authority (MTA) and NYCT launched a trial of standard, contactless bank-issued smart card devices to pay transit fares directly at the point of entry without the need to purchase fare media. MTA is a regional governing body that oversees the transportation area around New York City, Long Island, all of New York's boroughs and Connecticut. NYCT is the subway operator.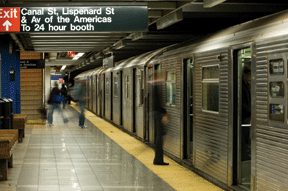 With annual revenues of $2.8 billion, NYCT's combined subway and bus services provide nearly seven million daily passenger trips, most of which are paid using the MetroCard automated fare collection system
"We focused on our Lexington Avenue Line, our most heavily traveled route," said Mr. Korczak. The pilot involved 30 stations, each with one MasterCard-supplied contactless reader at a designated turnstile.
At each entry point, one fare gate was equipped with a standard ISO/IEC 14443 and MasterCard PayPass™-certified smart card reader. The reader and the fare gate were branded with a logo designed specifically for the pilot. These gates can also accept NYCT's standard MetroCard.
Through partner Citibank, customers participating in the trial have the option of selecting a contactless credit or debit card (with a traditional magnetic stripe) or a key fob.
Proof of the pilot's success comes from "our executive leadership deciding to extend the pilot to buses," said Mr. Korczak. "The ballpark goal is to include about 275 buses in the pilot. These will be buses that are part of MTA transit bus routes."
When the subway trial kicked off, "we initially decided to use (the standard) value-based fares but in buses we'll actually have value-based as well as three different types of passes, day, weekly, monthly as well as bus to bus and reduced fares for seniors and handicap riders," he added.
Reader placement caused some problems. "We had to place it on the front of the turnstile" a little lower than was possibly needed. But NYCT had to work within the existing constraints of the other equipment already there. "If you go to Washington, Boston or Atlanta (where closed contactless fare automatic fare collections systems are in place) the reader is placed higher and on an angle so it's very visible." With NYCT, riders "are having to look down and to the side," he added.
The bus trial will include another major change. It will involve all card brands and issuing entities "which put out some kind of contactless instrument," said Mr. Korczak. "At some point, we'll have a reader that says Visa, Amex, MasterCard."
"I tap at the turnstile and it charges me for that ride. It tells me (rather it tells NYCT) that I entered at 9:14 a.m. at Union Square. Then there's the payment transaction which appears on the customer's bank statement."
He says early indications are that "card companies are very excited about this extra opportunity."
The scheduled six-month bus trial will involve 275 buses with a contactless reader being installed on all of them. "We haven't selected the bus routes yet. We're trying to pick some cross town routes that will enable bus customers to transfer from subway to bus, and we will include some north-south lines so customers can transfer from bus to bus."
While the subway trial was expected to end earlier this year, it has been extended with no ending date yet set, said Mr. Korczak.
Utah's ski resorts ride high
UTA, headquartered in Salt Lake City, could almost be considered the state's transit agency since it serves 83% of the state's 2.6 million people, said Mr. Roberts. Last year, UTA began a contactless trial with the four ski resorts the agency services.
For 30 years, UTA has used a paper-based ticketing system. The agency saw the ski resort trial as a chance to test what to UTA was a new technology. Mr. Roberts said he had heard a lot about contactless payments and had investigated it quite a bit. Its ski resort fleet is a special service UTA offers the resorts using specially configured buses to carry skiers and resort employees the 15 to 20 miles up to the resorts. At just $3 for a one-way ride, it is the best deal in town.
The agency had been accepting season passes and employee IDs for ski resorts, what he calls "flash passes," which means the card is "flashed" to the bus driver as the rider enters. "But both the resorts and UTA were unsatisfied with the method being used to count those trips," said Mr. Roberts. It was manual with the bus driver "making ticks on a piece of paper."
UTA's operating division "came to us and wanted us to develop a technical solution. We thought about bar code readers but at the same time we were investigating electronic fare collections. One of the interesting things from UTA's standpoint was that we didn't have an automatic fare collection legacy. All we did was accept cash and tokens and paper tickets. We were intrigued by the fact that a contactless product was being launched then. We looked at (MasterCard's) PayPass and Chase's blink card. We decided the best way to learn was to do it rather than study it."
The agency issued an RFP (request for proposal) in January 2006. While UTA's main goal was accounting for the passes issued by the resort, "we also wanted to accept all these other media, contactless debit and credit cards. MasterCard came on board first, then Visa and Amex followed," he added.
In the RFP, "we required the proposals to include a reader certified for (reading credit/debit cards). ERG (the fare collection system integrator selected for the project) included their standard reader to read passes and an OTI (On Track Innovations) reader to slave off their reader (to read the credit/debit cards)," he said. ERG didn't have time to get their own reader certified, which meant two readers had to be installed at the buses' entrances, said Mr. Roberts.
The ski resort pilot kicked off Dec. 7, 2006, less than one year from the release of the RFP. "When we did that," says Mr. Roberts, "we didn't know it was possible because some people told us things didn't happen that fast."
But happen it did. "One of the reasons we picked (the ski resorts) for the pilot was because it's a manageable number of businesses. We could get a pretty good test of the technology." The trial, which officially ended last April, was deemed a success and skiers and resort employees liked it, said Mr. Roberts. UTA intends to run a similar program for the 2007 ski season. "We've created expectations on the part of the ski resorts and customers and we don't want to lose the benefit of the learning curve."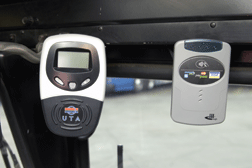 Collecting your money
There are some major advantages to using credit/debit cards rather than tickets. But it also means the financial industry has to look at transit a little differently.
What's so attractive about this payment method, whether it be a contactless card, key fob or cell phone (using near field communication) is that the relationship is between the customer and the issuing bank, not NYCT, said Mr. Korczak. "It's like a retail purchase. You know you can take your bankcard and go from Target to Tiffany's. Customers don't think about the different payment mechanisms."
But transaction cost is obviously of great concern to transit bodies and the traditional fee structure associated with branded card payments created a chasm that many thought impassable. Mr. Roberts, explains, "the structure of interchange fees in normal transactions has a flat fee component. If (the flat fee) is a significant percentage of the actual fare, it doesn't make sense to do it," he said.
The banking industry realizes that for micro-payments to be attractive to the merchant (including NYCT and UTA), transaction aggregation will have to be allowed. "That's where you bundle up a bunch of transactions by the same customer into a single payment transaction. It makes single payments economical and banks can do things to their fee structures which can be beneficial to us," said Mr. Korczak.
Mr. Roberts cites iTunes as a good example of aggregation explaining, "you can order one tune at a time if you want, but Apple waits until they collect a bunch of those transactions before sending them off to the payment network."
In UTA's pilot with the ski resorts, "we were allowed to do aggregation by MasterCard, but not by Visa and American Express. But over time, I think aggregation will be allowed by all of them," he added.
Mr. Roberts sees several other viable strategies that UTA could use when conducting credit card transactions, but all would involve acceptance by credit card companies. "They could create a different business category for transit agencies. I think that was the pattern when they got into grocery stores," he said.
Another option, similar to prepaid, is for UTA to "set up an account-based system, an alternative to an open payments platform, with MasterCard, Visa and American Express, where we get charged the same rate. The cards would only be used for credentials to reference a prepaid account. Every time they touch their card in the system, it would apply (to the rider's account). When we see the transaction, the first thing we'll check is whether this cardholder has a prepaid account and then we'll apply the cost of the trip to that account. If a (prepaid) arrangement didn't exist, the trip would apply to his credit card."
NYCT is also considering the prepaid option. "Visa, MasterCard, they all issue some kind of prepaid card," said Mr. Korczak. "About 200 of our retail MetroCard merchants actually offer that for those who purchase at their stores. We may have some customers who say they don't have a bank account, or they don't want one, so a prepaid account solves that problem. They can go out and get one of these and if it's contactless, they're good to go," he said.
SCA's Mr. Vanderhoof says UTA is "They are creating a new business model that hasn't been done before," says Mr. Vanderhoof of the SCA. "It's been a give and take negotiation on both sides, (but UTA has) already demonstrated they can successfully aggregate multiple credit card transactions and process them as one larger transaction and that's a way to reduce the fees associated with smaller values."
"What the New York pilot is saying is that 'we're in the transportation business, not the card business,'" adds Mr. Vanderhoof. "It lets us see if we can figure out how to leverage the existing infrastructure and still be financially sound. By leveraging the payment transaction networks already in place, we're able to tap into those existing networks and utilize the same payment technology and have it apply directly to the point of entry in the New York subway system while avoiding the extra step of converting cash and value from one card issuer to the next."
Cost of ticketing versus payment cards
"Everyone recognizes there's going to be fees associated with processing these transactions," continues Mr. Vanderhoof. "Those fees are being balanced against the cost savings the operator has of not having to issue cards or collect cash."
Mr. Korczak and Mr. Roberts agree that operators must examine, not only transaction fees, but also the actual cost of collecting those fares.
"We can save substantially over issuing our own fare medium," said Mr. Roberts.
"When you collect fares in cash, it's very expensive," said Mr. Korczak. "Once you start making these comparisons, you'll find that this is very economical."
He said one thing agencies should consider is "what percent of revenue does it take to do automatic fare collection? It's something that's a useful tool for comparison across one property or the next. For every dollar I spend, how much do I spend on collecting it? The banking payments way could be cheaper. Each property has to do its own analysis. Which of those work best? And when customers pay, which is the most cost effective – cash or debit/credit. And if a transit ticket becomes the same as your banking card the cost of ownership gets shifted over to whomever issues the card."
In other words, he added, "If you lose your card, you call the bank, not the transit agency."
That can be a big plus, particularly in New York City.
"Customers completely understood the notion of banking payments," said Mr. Korczak. "They had to get used to contactless payments and when we tested with focus groups we found that when something went wrong, their immediate reaction was to call the bank. That's entirely positive. Customers are trained to know that the banking system works and if it doesn't work, oh gee, I didn't pay my bill, etc. So they call their bank instead of calling us. We were all smiling about that."
Lessons learned
Were there any problems in New York? "The short answer is no," said Mr. Korczak. "The equipment has performed extremely well and customers are aware of the positives. They took to this like fish to water."
He said the "lessons we learned from the MetroCard is that customers' transportation needs are very flexible and if you have a pilot limited to one area, you might get customers who say it's not what they need. For example a customer would say to us, 'I like it but wish it were a monthly pass.'"
Security right now isn't an issue either. "I was at a conference run by the Federal Reserve recently and the conclusion of this forum was that you have more security concerns from your waiter than from your contactless card. And on the (stolen) ID side, you have more of a threat from the stuff not shredded in your waste basket," said Mr. Korczak.
Added Mr. Roberts: "One of the things we learned is if you have an exciting idea, the technical people get excited and make it happen. But on the business side, it takes a little longer. It really is a lot more work to deal with the institutions and business side as opposed to the technical vision that a number of people have had within this industry. (Another) is that we needed to involve everyone within our agency who will be touched by this new system…people who are responsible for customer service, operations, we had to liaison with our partners (ski resorts), everyone has to be involved. They're the ones who need to plan and figure out the rules and processes. Engaging them and getting their support is a critical part of deploying this technology."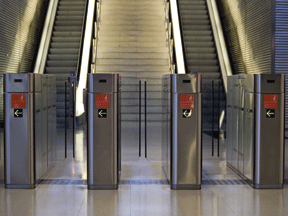 What's next in New York?
"We haven't made any decisions other than the pilot," said Mr. Korczak. "We have to get to the second step and get through it first."
MTA has already joined in what Mr. Korczak calls "a strategic alliance with the Port Authority of New York and New Jersey to test the banking payment solution on the Port Authority's Path Train, a commuter rail line that comes into Manhattan. We're looking at testing anywhere from two to six New Jersey transit bus routes too to show the potential for regional travel."
He added: "One of the things we'd like to try to do is to encourage customers to ride regionally over a broader area using a different series of transportation companies, Path, Jersey Transit, etc. They're all separate entities, but we're trying to find a common thread on how to pay, to make it seamless."
Mr. Vanderhoof said of the Port Authority pilot: "The interest will be in seeing how the pilot of the Port Authority can co-exist with the pilot going on in New York City. The hope is that those systems will be compatible. You'll have the added complexity of multiple merchants co-existing together with a common payment platform that didn't exist before."
UTA: full steam ahead
The ski resort trial showed UTA that it could act as a merchant and accept credit and debit cards. The pilot also enabled UTA "to educate its constituencies (about fare collection and contactless cards). We were able to manage the ski cards and we showed that we could accept contactless cards," said Mr. Roberts.
Earlier this year UTA issued an RFP seeking to take the agency and its riders directly to contactless. As with the ski resort trial, riders will be able to wave their bank-issued cards over a reader. In addition, he wants UTA to be able to handle the ID cards issued by many of Utah's employers and educational institutions.
UTA "made a policy decision to not do mag stripe within our system," he said. That would be like going backwards. "We chose to leapfrog to contactless. Most agencies I know would like to be completely contactless." However, UTA may keep mag stripe around for a while to handle those colleges or businesses that haven't made the jump to contactless.
Mr. Roberts is also investigating the possibility of the system accepting the more secure, FIPS 201 compliant ID cards being issued by some of the federal agencies located in Utah. "Why not use the FIPS 201 cards, read them and bill the federal agencies?" asked Mr. Roberts.
All this is in the future. Right now, UTA just wants the infrastructure established.
When the RFP for the multimillion-dollar system went out, "we were worried we wouldn't get any (responses), but now we've gotten several. We're in the process of evaluating the proposals," Mr. Roberts said.
Mr. Robert's ambitious plans include kicking off the first phase by late spring next year. "I don't know if we can do it or not, but that's what we would like to do."
"The thing about Utah," said Mr. Vanderhoof of the initial ski resort trial, "is it demonstrated that players could come together using existing technology and do a totally new and innovative fare payment system in a matter of months."
"Historically, it would have taken several years to develop a new system like that," he adds. "Utah was able to demonstrate they could put together the requirements, go out to proposal and get off the shelf solutions to deliver their transit fare system and have it up and running in a matter of months. That step has encouraged them to do the same thing system wide and be able to convert the entire system over which should be a model for other transportation operators, particularly tier 2 or tier 3 (the modest to mid-size transit) markets with a small infrastructure."
Mr. Roberts readily admits that without the New York pilot, things might have been more difficult in Utah. "What we've been doing couldn't have been done without the leadership provided in New York," he said. "They had a lot of conversations with Visa and MasterCard and essentially, what happened when we put out our RFP to do contactless debit and credit, because of the work done in New York and in the Smart Card Alliance, we had people who could look at our proposal and tell us they could participate. If New York hadn't done what they had done, it would have been too big a sell."
He added: "Visa, MasterCard, Amex and the various banks had already done this work in contactless payments. We had the good fortune in coming on the scene and saying let's stop talking about it and do it."
---
Additional resources:
MTA's web site is: www.mta.info; UTA's is www.rideuta.com/; and the NYC trial is detailed at www.mastercard.mastercard.com/subwaytrial.