Octopus extending tentacles outside of Hong Kong
By Andy Williams, Contributing Editor
If imitation is the sincerest form of flattery, then Hong Kong-based Octopus Cards Limited ought to be feeling pretty good about itself. Not only has it revolutionized transit payments at home-Hong Kong-but its arms are starting to spread to other parts of the world.
In 2003, Octopus successfully exported its technology and experience to The Netherlands to provide the clearinghouse system software and "operational expertise to the Dutch party to implement a nationwide automatic fare collection system," says Prudence Chan, chief executive officer of Octopus Cards Limited, the managing organization owned by the major transport operators in Hong Kong. The Netherlands' system will be rolled out to the whole country by 2009, adds Chan.
Just last year, she says, Octopus was awarded a contract to develop and implement a contactless smart card payment system for the Road and Transport Authority in Dubai, United Arab Emirates. Modeled on Hong Kong's Octopus, the new system will be a common platform for multiple public transport services in Dubai."
And as its tentacles expand, so do the form factors. That's why it's simply "Octopus," not "Octopus Card," says Chan. "As the Octopus functionality can be provided in different formats as well as a card, we use the word 'Octopus' to refer to the full range of cards, watches, key-fobs, plush toys as well as crystal key chains."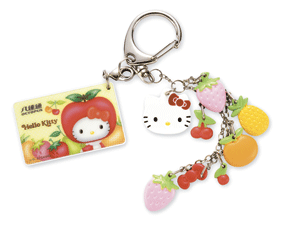 Plush toys? Octopus is not immune to merchandise endorsements. Starting in 2006, it rolled out products designed to attract the younger set. The "Hello Kitty" series includes an Octopus key ring set, that, according to the organization's marketing arm, "comes in two designs, each with a choice of two outfits – an evening gown and a casual dress – in Hello Kitty's wardrobe." With the multi-functional key ring, buyers can attach the Octopus to their tote bags, mobile phones, pocket video game players or music players. The set costs about $22 and if you want a matching Hello Kitty mini-card, Octopus has heard you. Earlier this year, the company released such a card. Both the plush toy version and the card are available at 7-Eleven convenience stores in Hong Kong.
Like the Octopus card and other Octopus-based marketing products, Hello Kitty can be used on public transport and at the more than 5,000 retail outlets across Hong Kong. It can also be reloaded, like the normal card, at any Octopus distributor or retailers.
As Chan puts it, "Octopus continues to seek opportunities to delight its customers through more innovative products that come in different shapes and forms."
Chan says, "Octopus is the world's leading and most extensive smart card payment system, with more than 1,000 service providers across different businesses including public transport, parking, retail, vending and kiosks, schools and leisure facilities, as well as access control for residential and commercial buildings. Some examples in the retail sector are fast-food chains, such as McDonald's and KFC, and convenience stores – 7-Eleven and Circle K."
The Octopus card was originally conceived and created by the major public transportation companies in Hong Kong seeking a means to provide a cost-effective way of paying for fares on buses, rail or ferries. The Mass Transit Railway Corporation Limited (MTR) had been operating a fully automatic fare collection system since 1979, utilizing a plastic magnetic stripe card designed for single journey and stored value tickets.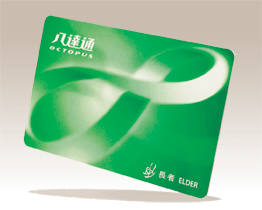 In 1993, the MTR began reviewing alternatives to the magnetic stripe cards and the existing system and concluded that the future of fare collection lay with contactless technology. According to Chan, in order "to cope with the complexity of the business rules of multiple transport operators, a computer chip was needed inside the card. Secondly, for safety reasons on mass transit, transactions need to occur very quickly."
As to speed, she further adds, that in theory "the mass transit requirement is for each transaction to take no longer than 300 milliseconds. On average, the throughput of the transit turnstiles at MTR is about 28 passengers per minute," or about 2.1 seconds per passenger.
To further facilitate development of the new system, in 1994 the MTR created a joint venture with the other transportation operators: Kowloon-Canton Railway Corporation (KCRC), Kowloon Motor Bus (KMB), Citybus and the Hong Kong and Yaumati Ferry (HYF). Ownership of the latter two were later transferred to New World First Bus Limited and New World First Ferry Services Limited. This new venture was called Creative Star Limited and was renamed Octopus Cards Limited in 2002.
"The first generation of this system was contracted out to ERG Group, Perth, Australia, based on Octopus specifications," says Chan. However, ERG was replaced by the Octopus-developed system in 2006. The Octopus smart card system itself wasn't launched until 1997, the same year that Hong Kong was returned to China by the United Kingdom.
Sony's contactless Felicia technology powers Octopus card and readers. "Sony was chosen after a series of technical evaluations of different cards available on the market in the mid-90s," adds Chan. The Sony-manufactured card communicates with different fare processors through the use of some 50,000 readers and writers spread throughout Hong Kong. The operating range of the reader/writer is between 30mm to 100mm depending on the model.
What's innovative about the system is that even today it's composed of agencies competing for the same customers-what the agency calls "cooperation versus competition." Despite the competition, they "have all worked together to ensure a seamless payment system," according to an Octopus spokesperson.
Realizing the card's vast commercial potential, Octopus obtained deposit-taking authorization from the Hong Kong Monetary Authority in April 2000 to expand its use to a wider base of applications.
How did the Octopus name come about? The Chinese and English names were chosen through a public naming competition in mid 90s, says Chan. In relating the story behind the Octopus naming, she referenced the Wikipedia article from the Internet.
The Cantonese name for the Octopus card literally means "eight-arrived pass." It was selected by the head of the MTR Corporation following a naming competition. The number eight is a significant number in Chinese in that it is often used to indicate "many." It is also considered a lucky number in Chinese culture. And, of course an octopus has eight tentacles in any language. Another reason mentioned in Wikipedia is that the name "is particularly appropriate since an octopus is thought to be able to grab many things at the same time and this ability is conferred to its cardholders who can use it in many different types of transactions."
Even the Octopus logo incorporates eight in its design. It's actually an "8" laid on its side. In addition, the mathematical symbol for infinity, which also implies many uses, also resembles a sideways 8.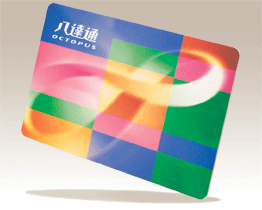 Today, there are two major types of Octopus cards: "On-loan Octopus" (adult, elder, child or personalized) and "Sold Octopus," says Chan. The "On-loan Octopus" is a card the company lends to a customer who needs to pay a refundable deposit that covers the card cost and any possible negative value the customer might incur. Yes, their reloaded cards can dip below zero. The card can carry a maximum negative value of about $4.50, about the charge for one MTR trip, before value needs to be added. The cards can be linked to a credit card to allow for automatic reloading.
A "Sold Octopus" is a specially designed Octopus the company sells to a customer. It holds no deposit, and any remaining value on the card is non-refundable. Besides the automatic credit card reloading option, users can also add value with cash or credit cards via numerous reloading points throughout the area.
In addition to transit, the card can be used at a variety of other locations including car parks, parking meters, fast food outlets, convenience stores, supermarkets, clothing, vending machines, public pay phones, photo booths, cinemas, churches, school campuses, recreational facilities and access control.
The card's maximum balance can never exceed about $128, says Chan. More than 16 million Octopus cards are in circulation and the system handles more than 10 million transactions daily, representing more than $11 million in transactions.
When Octopus Holdings Limited was incorporated in 2005, it also set up subsidiaries responsible for the company's non-payment related business that includes Octopus Rewards Limited, Octopus Connect Limited and Octopus Knowledge Limited.
It is Octopus Knowledge that has moved the service beyond its Hong Kong borders, allowing it to provide automatic fare collection and smart card system consultancy services in other countries, such as Dubai. "As a full-service smart card issuer and operator, Octopus is in a unique position to export its experience, systems and proven approach to make life easier for people in other countries," adds Chan.
The Octopus Rewards program, launched in November 2005, enables customers to earn and redeem Rewards dollars with their registered Octopus cards, regardless of the method of payment. With this common platform, participating merchants can offer discounts or special offers to their customers without having to introduce a new rewards systems. More than 1.8 million customers have registered for the program with 14 participating merchants. It has been adopted by a number of major retailers in Hong Kong, including Wellcome Supermarket and McDonald's, says Chan.
Octopus is also open to looking at other technologies that might improve its service. One is near field communication (NFC), a technology that can turn a cell phone into a contactless payments device. Chan notes, "Octopus continues to seek opportunities to make everyday life easier for its customers and is following closely the NFC developments."
Meanwhile, Octopus continues to look at expansion opportunities both home and abroad. The first steps for cross-border expansion began this year when Octopus partnered with China's UnionPay bank to expand its service into China, enabling customers to use Octopus in Café de Coral's Shenzhen.
"People in Hong Kong and Shenzhen frequently travel across the border. We are pleased to expand the Octopus service in Shenzhen, making cross-border spending even more convenient," says Chan. And that agreement apparently is just the beginning. Octopus, she says, "will continue to explore the possibility of expanding the service in southern China."
From Dubai, The Netherlands or Hello Kitty, Octopus has fostered its own identity in just 11 short years to become one of the best-known, most successful and largest smart card-based transit systems and more.
Octopus facts and stats
The world's highest acceptance of a commercial smart card system – 95% of Hong Kong residents possess an Octopus.
About 16 million cards are in circulation compared to Hong Kong's population of 7 million.
Octopus is the world's most used smart card system with more than 10 million transactions a day, valued at more than about $11 million.
22 financial institutions are providing Octopus Automatic Add Value Service to customers.
More than 50,000 Octopus devices deployed.
Octopus has attracted a considerable number of delegations from all over the world to visit and share Octopus experience, facilitating the industry development.
Octopus is the world's pioneering and most extensive contactless smart card system.
The card is designed to accommodate multiple service providers from both the transport and non-transport sectors, allowing multi-application developments to provide more convenience to the public.
Multi-usage with one single card. Octopus' services range from transport, parking, retail, self-service business, leisure facilities, schools, and access control.
Easy reloading. Octopus enables numerous reloading points and a wide range of reloading channels, including Octopus Automatic Add Value Service through a credit card.
Discounts and Loyalty Programs. Cardholders using Octopus for payment can use the discounts or loyalty programs provided by a number of service providers.
Numerous awards. Octopus has earned, at last count 21 awards, including the first International Association of Public Transport Secretariat General Award for Innovation in Public Transport presented in 1999 and ranked seventh on the 2000 list of the "10 Engineering Wonders in Hong Kong," issued by the Hong Kong Institution of Engineers and the Leisure and Cultural Services Department.