Odds in house's favor for gaming efficiencies
Casinos turning to embedded chips to generate player and accounting data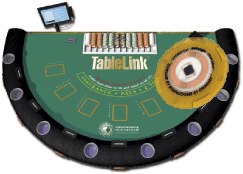 By Stephen Barlas
Major gaming industry vendors are betting big on the use of RFID gaming chips. The first to lay its cards on the table is Las Vegas-based Progressive Gaming International Corp. Casinos in Louisiana, Minnesota, Las Vegas and Northern California are using Progressive's TableLink chip tracking system, which includes an RFID reader at every table, antennas under each of a table's seven playing positions and gaming chips with RFID inlays. Look for it at other games such as roulette and craps once Progressive develops a faster RFID semiconductor, says Tim Richards, the company's executive director of marketing.
In the meantime, L'auberge du Lac Casino in Lake Charles, La., will use TableLink in its casino when it opens later this year, says Michael Angelastro, director of table game operations, who oversaw a TableLink installation at his previous job at the Grand Coushatta Casino in Kinder, La.
How it works
Sometime during the time a player is at a table, a floor supervisor takes the player's casino-issued card and inputs the player's identifying information into a tablet PC at the gaming table. After players put down their bets, the dealer pushes a button and the RFID reader (proprietary equipment manufactured by either Progressive or Gaming Partners International) reads and records each bet (the initial 125 kHz tags used came from Philips, but its newer tags will be 13.56 MHz ones from Infineon).
That data is sent to the tablet PC which uploads it to the customer management server and crunches the numbers, spitting out—in real time—such things as average bets, high and low wagers and gives the casino an idea of the player's bet spread.
These kinds of calculations have been generated, for the most part, manually at the table where the dealer passes on a sheet to a pit clerk, who uploads the data to the customer relations computer.
Catching counters, awarding comps
"The system allows us, via real-time betting patterns, to see whether a player might be counting cards, for example," says Angelastro. "It also frees up time for the dealers and floor supervisors who can focus more on providing better service. You don't need a pit clerk. Players like it because they don't have to worry about a floor supervisor not getting over to them and taking their card immediately when they sit down. They know the casino is accurately recording their bets, and that they will get the comped meals and rooms they deserve. And we know we are distributing those comps equitably."
Other vendors are now planning to get into the game. Last December, Shuffle Master Inc., an $85 million-a-year supplier of automatic card shufflers and proprietary table games, purchased two RFID patents from a Florida law firm. Shuffle Master turned around and sold a license for one of those patents to Progressive, even though Shuffle Master expects to market a rival RFID-gaming table system called the Intelligent Table System. Progressive has a non-exclusive license from Shuffle Master for that patent, according to Progressive's Richards.
Shuffle Master extended a license for the second patent to Progressive's gaming chip supplier, Gaming Partners International Corp., a $1.2 billion-a-year gaming industry Goliath based in Las Vegas. However, Chipco International, a small family-run firm in Raymond, Maine, had already secured a patent for the use of RFID inlays in gaming chips, although Chipco uses a different bit-labeling scheme than that of Gaming Partners.
Mark Yoseloff, CEO and chairman of Shuffle Master, declines to discuss the patent situation. But he contends that none of the vendors have a leg up on the others because none of the products are yet ready for prime time. "A lot of this early stage stuff is not designed for continuous use in a casino," he says. "It is designed for a science lab."
Progressive's Richards disagrees. "This is well beyond the lab," he states.
Progressive ordered 10,000 RFID-equipped gaming chips last November and expects to order approximately 500,000 additional chips for deployment this year.
Building a better chip
The success of Progressive's strategy will depend on enhancements to the Gaming Partners gaming chip, which contains a 56- or 96-bit character on the Philips Electronics semiconductor used in the RFID inlay. That identification number, which denotes the dollar value of the chip, is placed in a database in the semiconductor's memory. Chipco's label does not rely on a database, so its RFID inlay is read much faster, a fact confirmed by Oliver Schubert, Shuffle Master's director of product development.
"It takes us three-quarters of a second to read a stack of 20 chips at all seven betting stations on a poker table," says John Kendall, president of Chipco.
Gaming Partners says a Progressive reader can read a stack of 20 chips, too, but it takes seven seconds to read 100 chips. Laurent Gaubout, marketing manager for Gaming Partners, declines to get into details on either his company's RFID chips or their advantages vis-à-vis Chipco's product. But Gaubout admits, "Three-quarters of a second is impressive."
Kendall believes the first purchasers of commercial quantities of his poker chips will be casinos now being built on the island of Macau, a principality off the coast of China. "There is significant interest there because those casinos are just opening, and they are buying equipment and supplies for the first time," he says.
---
This article originally appeared in the Premiere issue of RFID Operations.