One ID card with multiple applications to see continued growth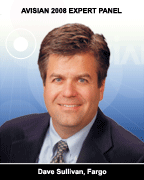 Dave Sullivan,
President,
Fargo Electronics, Inc.
As we move through the latter half of this decade, we will see continued momentum in the development and adoption of contactless technology. Two areas affected by this growth are the use of a single credential to host multiple applications, and the use of personal electronic devices, such as mobile phones, as virtual identity credentials.
A single credential that can be used for multiple applications brings more functionality, simplicity and value to organizations and individual cardholders. The ultimate goal of helping end-users "do more than open the door" means utilizing solutions that add efficiency and productivity in addition to security.
These solutions will facilitate programs such as logical or 'information' access including single sign-on to computers and networks. Single sign-on allows a user to enter a name and password once to access multiple applications, enhancing security, and avoiding the proliferation of passwords and PINs.
In addition, contactless technology can promote the use of a single credential for physical and information security. The need for the convergence of physical and information security has never been greater.
With the increase in computer viruses and hackers, plus the growing number of employees logging on to company networks from home, coffee shops and airports, security managers are faced with the challenge of protecting proprietary data as well as securing access to buildings. By combining credentials and back-end verifications, organizations gain efficiency and combined reporting. Often the result is that employees carry only one ID card that provides them with access to the building, charge privileges in the company cafeteria and the ability to log on to the organization's secure computers.
While real-life implementation of converged security programs hasn't yet achieved critical mass, awareness of the need for a combined approach has grown steadily.
An emerging trend is the growth of contactless technology built into personal electronic devices. In addition to identification cards with built-in radios, devices such as mobile phones and electronic tokens will hold virtual credentials. With the use of Near Field Communication (NFC) in phones, the users' interactions with systems such as access control, cashless payments and data transfer are further simplified.
HID Global and its Connect partners are in step with this trend. HID can deliver virtual credentials to devices with new form factors and build on the expertise of its Connect partners to deliver a variety of applications like certificates and biometric log-on. HID provides users with the ability to emulate HID and other popular access control credential formats along with other important applications. In addition to securing their virtual identity transactions, users will find a number of authentication factors available like the Crescendo card which holds a Microsoft certificate and Connect partners with features like biometric authentication. The customer has the ability to generate unique Virtual Credentials, taking identity-driven transactions to a new level of convenience and security.
Fingerprint biometrics will remain the dominant biometric as it is the most widely deployed and therefore the most mature. It also doesn't cost as much. Fingerprint readers will find their way not only to the entrances of more doors, but on more laptops and mobile devices.
Face readers will grow in popularity as a hands-free alternative. They have proven themselves in high-volume applications, such as The Venetian Macao-Resort-Hotel. It's the world's biggest casino in the world's second largest building and 12,000 workers use 13 face readers placed at the employee entrance to authenticate themselves as they head into work.
Face readers will also be used for network access control with the development of desk cams that can authenticate users as they sit down in front of their PCs or laptops.
Biometrics are also finding their way into consumer products such as mobile phones and PDAs. Banks are turning to biometrics as well to authenticate online customers in response to the Federal Financial Institutions Examination Council's regulation recommendation that financial institutions use two-factor authentication in online transactions.
The industry is also heading towards physical/logical identity convergence. Administering physical and logical identity and access management under one unified policy has many benefits–it increases security, reduces redundancies and creates complete audit trails. However, there have been many barriers to adoption, such as the varying approaches to security taken by facilities operators and IT security staff and the fact that physical security products have been slow to become IP-enabled.
Yet, as companies move to meet compliance regulations that mandate strict access control processes, and as IP-based security products become the norm, more companies will begin unifying physical and logical identity management.
---
About the AVISIAN Publishing Expert Panel
At the close of each year, AVISIAN Publishing's editorial team selects a group of key leaders from various sectors of the ID technology market to serve as Expert Panelists. Each individual is asked to share their unique insight into what lies ahead. During the month of December, these panelist's predictions are published daily at the appropriate title within the AVISIAN suite of ID technology publications: SecureIDNews.com, ContactlessNews.com, CR80News.com, RFIDNews.org, FIPS201.com, NFCNews.com, ThirdFactor.com, and DigitalIDNews.com.
Near Field Communications News and Insight
Explore more developments dealing with the implementation of Near Field Communications, a short-range wireless technology that promises to revolutionize contactless identification, payment, access, and more.
Click to visit NFCNews
.