One million XIRING Chip & PIN readers to be distributed by UK lender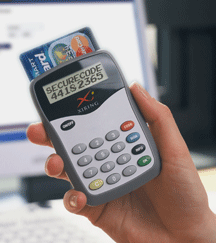 One of the UK's largest mortgage lender and savings provider will distribute more than 1 million personal chip card readers to support at home Chip & PIN authentication. Nationwide has more than 13 million members £160 billion in assets. It will deliver the XIRING Xi-Sign 4000 beginning this spring.
How does it work? The Visa debit card is inserted into the XIRING reader and enters his PIN. Next a transaction reference number provided by the online bank is entered. The reader then displays an eight digit pass code – valid only for this transaction – to confirm the transaction.
Nationwide building society rolls out over 1m XIRING personal card readers
Suresnes, January 29th 2008: Nationwide Building Society, the UK's largest mutual, announced today the launch of personal Chip & PIN card readers supplied by XIRING.
In May 1997, Nationwide Building Society launched its online banking service in the UK. With ten years of experience, Nationwide has now decided to be amongst the first to implement the next generation of fraud prevention technology, adding an extra level of security for its members. Nationwide is to apply the principles set out by APACS as the UK standard for securing e-banking and e-commerce. The solution is based on the "Remote Card Authentication" technology[1], and requires additional authentication when undertaking certain electronic transactions.
Remote Card Authentication solutions improve the security of the e-banking service for the consumer, in a convenient form factor. Now that UK consumers are frequently using Chip & PIN for retail purchases, using the same process at home is easy to understand. With a personal Chip & PIN card reader, Nationwide registered Internet bank users will be able to benefit from the same convenient security as Nationwide already do for any face-to-face transaction.
XIRING has supplied Nationwide with over one million card readers. The Xi-Sign 4000 from XIRING is a portable, unconnected smart card reader that provides an extra layer of security for customers by authenticating both them and the transaction. The user inserts their Visa debit card into the card reader, enters their four-digit PIN number, and enters a reference number (an eight digit number) provided by the online bank. The reader then displays an eight digit pass code to be entered onto the Internet Bank to confirm the transaction. This unique code is only valid for one transaction and cannot be re-used.
Full deployment services of these readers direct to the end users will be provided by XIRING during the spring 2008.
Jeremy WOOD, Nationwide's divisional director for consumer finance, says: "Nationwide is committed to providing safe and secure ways for our customers to carry out Internet Banking. The introduction of personal card readers will create an additional layer of security for our Internet Banking customers. We are pleased to be one of the first financial services organisations in the UK to introduce this innovative technology. "
Georges LIBERMAN, XIRING's Chairman and Chief Executive Officer adds: "The Nationwide program is very ambitious and will provide additional security in the run up to the introduction of Faster Payments in the UK. It confirms that the Remote Card Authentication technology we have been promoting for a long time as recommended by MasterCard and Visa, is the right answer for securing e-banking and e-commerce on a large scale basis. This massive roll-out with our solution confirms XIRING technology leadership and ability to fulfil a large deployment in a short period. This programme is a major milestone in XIRING development strategy".
About Nationwide:
Nationwide is the world's largest building society with over 13 million members and assets of over £160 billion.
Nationwide offers a broad range of retail financial services including mortgages, savings, current accounts, life assurance and investment products, personal loans and household insurance. The Society is the UK's second largest mortgage lender and the second largest savings provider. Nationwide's members can manage their finances through over 900 retail outlets, by telephone, internet and post.
The Society has around 19,000 employees. Nationwide's head office is in Swindon with administration centres based in Northampton and Bournemouth.
About XIRING:
XIRING provides security solutions for remote transactions. The company develops security software embedded in smart card readers for strong authentication and digital signature, addressing two main markets: banking and healthcare. Created in 1998, the company posted € 12.8 million in revenues in 2006. XIRING has been listed on Alternext/Euronext PARIS since Sept.18th, 2006. More information: www.xiring.com
More information about Remote Card Authentication Technology at: http://www.remotecardauthentication.info/