Organic RFID to cut waste on produce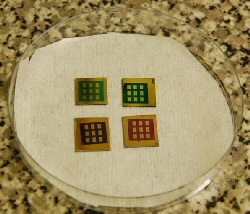 Researchers at Syngenta Sensors University Innovation Centre at the University of Manchester are working to develop an organic RFID tag which will be used to monitor and manage produce in the retail supply chain, according to Plastic Electonics.
Currently, growers have very little control over quality once their products enter the supply chain. If items become spoiled, they are trashed and it is grower's responsibility to cover costs to send them to the landfill.
The organic RFID tag would allow the distributors to monitor certain variables such as temperature and ethylene release (a chemical released as a fruit ripens). The hope is to identify risks of spoilage, and accurately locate where in the supply chain the spoilage occurred. Other expectations include monitoring and gathering information to determine the high or low stress batches. With this information, distributors could work to get the high-stress batches to the shelves as soon as possible.
By the end of 2011, the Syngenta hopes to deliver a printable, organic proof-of-concept that can be demonstrated to an industrial partner to produce on a commercial scale.
To the read this article in it's entirety visit here.