OTI gets nod from Frost and Sullivan and Israeli commuters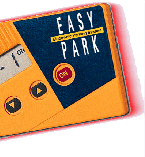 The 2005 third quarter has been a good one for Israel-based On Track Innovations. In August the company received a new five-year contract renewal for its Easy Park program in Israel. Then, a month later came the announcement that it had been chosen by Frost & Sullivan as its Company of the Year.
The award from a global consulting company suggests the 15-year-old OTI, which has a U.S. office in Fort Lee, New Jersey, is gaining more recognition, particularly among its peers. "Despite not having the marketing clout of the larger, well-established companies, OTI's efforts in extending its market reach in the contactless arena is helping the company become a market leader," said Frost & Sullivan in announcing the winner.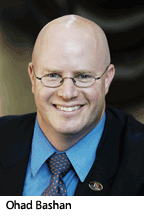 "We're very happy from the selection," said Ohad Bashan, OTI America's president and CEO. "Undoubtedly Frost & Sullivan is a very reputable firm and the recognition that we're gaining is very satisfying."
"OTI has developed and patented a communications technology that includes both a proprietary communication protocol and an encryption method, ensuring high-speed, secure transmission of data between the card and reader," said Frost & Sullivan's Anoop Ubhey.
"We are definitely able to show progress in market leadership and technology leadership for contactless solutions," said Mr. Bashan. And yes, the award was a surprise. "I didn't know about it in advance, but I feel we are well deserving of this honor."
Meanwhile, OTI's five year EasyPark extension with the Union of Local Authorities in Israel means a continuation of "one of the most successful products in Israel," said Mr. Bashan. It is projected that EasyPark has already reached about 250,000 subscribers. It is currently in use in 26 cities across the country.
"EasyPark has been running about four years in Israel now," added Mr. Bashan. He said he owes its success to word of mouth. "We don't have to spend lots of dollars on marketing or ad campaigns."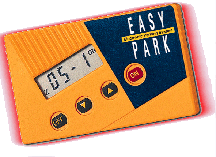 How does EasyPark work?
In short, EasyPark eliminates the need for drivers to scrounge around in their pockets for coins to feed a parking meter. "It eliminates cash and is very user-friendly," added. Mr. Bashan.
The EasyPark subscriber simply parks his car, turns on the contactless in-vehicle parking meter device displayed in the car window; and when he returns, turns the device off. This also eliminates the need for parking meters. The EasyPark system is used for both on-street parking payments and for parking lots, where the device is presented at the gate when entering or exiting the lot.
Parking fees are computed down to the minute and vary by location, said Mr. Bashan. Parking attendants, using a contactless handheld terminal, can check to make sure the device has been turned on.
EasyPark is sold in post offices across Israel for about US$20 to $25, with loading stations available in post offices and gas stations. "One can input any amount, but there's a limit. Usually you don't load more than $15," said Mr. Bashan. The loading process takes funds from the person's credit card. Using ISO 14443 contactless technology, one only needs to hold the parking device near the loading kiosk, added Mr. Bashan.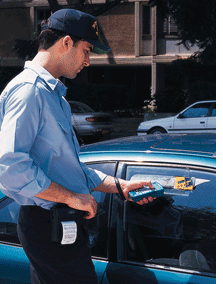 The EasyPark program offers a revenue stream, from both product sales as well as transaction fees. Transaction fees for the first six months of 2005 increased by more than 50% compared to the same period last year and about 7,000 new EasyPark subscribers are joining the program monthly, a 40% increase compared to last year.
In Israel, those who don't have the parking device can still pay with paper tickets and, where available, meters.
"We bid for the program, won the tender, and started implementing it about four years ago," said Mr. Bashan. "It is the largest program (of its kind) operationally in the world."
For EasyPark to be installed in other cities in other countries, local support is needed, "either statewide, municipal-wide, or region-wide," said Mr. Bashan.
Established in 1990, OTI, which is traded on the NASDAQ in the U.S. and the Prime Standard Segment of the German Stock Exchange, designs, develops and markets secure contactless microprocessor-based smart card technology. Applications developed by OTI include petroleum payment systems, homeland security solutions, electronic passports and IDs, micropayments, mass transit ticketing, parking, loyalty programs and secure campuses.