OTI's U.S. outlook bright following NASDAQ 'ring' and passport 'add'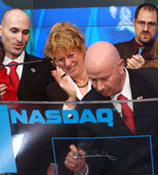 A string of U.S. successes that started last December with approval for a national NASDAQ listing, followed by an invitation to participate in the pilot U.S. passport project, has left contactless smart card manufacturer On Track Innovations feeling pretty good about its U.S. opportunities.
It all started last December when OTI gained approval for a listing on NASDAQ's National Market System and, to celebrate that event, some OTI officials got to ring the opening bell in mid-December.
"This listing on the NASDAQ National Market, often considered the world's premier stock market for high-tech companies, is an important milestone for OTI," said Oded Bashan, president and CEO of OTI in Israel. "We hope that this move will provide greater visibility for a larger investor base. We're also honored by NASDAQ to ring its opening bell on this auspicious occasion for our company."
His American counterpart, Ohad Bashan, president and CEO of OTI America (Fort Lee, New Jersey) and head of Global Marketing, added: "OTI has been a NASDAQ listed company for the last two years, but we've moved to its national market. Not many companies are able to do this."
The company's common stock was eligible for trading on NASDAQ's National Market System (NMS) December 20, 2004, the same day the two Mr. Bashans rang the bell opening the NASDAQ market. The trading symbol for its common stock will continue to be OTIV.
Charlotte Crosswell, head of NASDAQ International commented, "We are delighted to be part of OTI's growing success. Trading on the National Market can provide greater exposure, higher trading volumes and a larger audience of potential investors."
OTI's common stock has been trading on the NASDAQ Small Cap Market since November 2002. The Company's initial public offering was in August 1999, in the Neuer Market in Germany.
"OTI had good media coverage. NASDAQ did it to recognize our move from small to national," said Ohad. "We've gotten very good feedback from customers and stakeholders. It was a very nice opportunity. Not everyone gets to do it so I feel we've been honored."
Added Galit Mendelson, OTI's director of corporate communication: "This shows the company is growing and moving in the right direction. There are very hard requirements so it's good for us that we were able to move from small cap to national."
U.S. passport consideration
A month after the bell-ringing, OTI America, and several other companies, were notified by the U.S. Government Printing Office (GPO) that they had been asked to participate in the U.S. pilot electronic passports project. This award was in addition to similar awards, announced by GPO last October, to four other companies. It is anticipated that one or several companies will ultimately be selected for the production stage.
"We are very pleased that the GPO has determined to make the award to us," said Ohad Bashan. "We believe that, on the basis of the work that we will perform under the contract, the technology that we have developed for use in the growing world-wide market for personal identification and other homeland security applications, that we will be selected for use in the production stage of the U.S. passports."
He said OTI can provide "complete e-passport coverage," including the passport cover, chip, and operating system. OTI is currently handling electronic passport programs for two demanding customers – China and Israel – and others, he added.
"OTI provides field-tested proven technology that is very secure. We have the experience to implement biometrics compliant with ICAO (International Civil Aviation Organization) standards," Ohad said. "We are currently putting all our resources (into this program) to deliver the best product."
Established in 1990, OTI designs, develops and markets secure contactless microprocessor-based smart card technology for a wide variety of markets. Applications developed by OTI include solutions for petroleum payment systems, homeland security, electronic passports and IDs, micro-payments, mass transit ticketing, parking, loyalty programs and secure campuses.