Ottawa adopts NFC parking payments from PayByPhone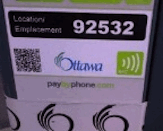 PayByPhone has announced that the city of Ottawa is now offering an NFC payments option on parking meters.
According to PayByPhone, every Pay & Display machine in Ottawa has been outfitted with an NFC-enabled PayByPhone sticker, which users can tap with an NFC phone to set up and pay for parking time.
Once tapped, the sticker automatically launches the PayByPhone app or mobile web page on the user's phone. The system recognizes the user, identifies the parking location, and the customer enters the amount of time desired. An optional text message is sent five minutes before the parking session ends, and if needed, allows additional time to be purchased via the phone.
Drivers without NFC capable phones can still use the service by manually launching the app or calling the local number. The signs also contain QR codes for a mobile web transaction.