Ottowa start-up readies NFC rewards program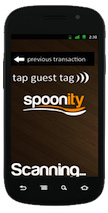 Ottowa's Spoonity is gearing up to launch an NFC-based mobile rewards program for local restaurants and cafés, reports Katana EMC.
In October, Spoonity received a $30,000 grant to develop the mobile system, which it plans to roll out early next year. In the meantime the start-up has introduced a card-based version that enables customers to ditch their various loyalty cards in favor of a single Spoonity key fob.
The free-to-use card system is now available at several local eating establishments, including Luna Crepes and Café and Gaia Java. Customers at these locations can wave their Spoonity key fob over a contactless reader at the point of sale to collect their rewards.
The same key fob can be used at any participating restaurant, and the more you use it, the greater the rewards. According to Katana EMC, occasional users can collect "Teaspoon" rewards, weekly users qualify for "Tablespoon" rewards, and daily customers receive "Big Spoon" offers – all of which are determined by the merchant.
Spoonity co-founder Myron Gomes says the company plans to introduce the system to 20 more locations across Ottowa in the coming months, and may even expand to other Canadian cities like Toronto and Calgary.
"The idea for Spoonity came about as a way for restaurants to get to know their customers better and be able to reach those customers after they had left the restaurant," Gomes told Katana EMC. "Spoonity's goal is to bring restaurants and consumers closer using technology to make it as easy and cost effective as possible."
Read more here.