Panasonic's Toughbook H1 Field for mobile applications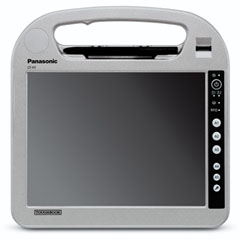 Panasonic announced the release of a new addition to its Toughbook lineup, the rugged H1 Field, designed to meet the increasing demand for mobile application solutions.
Sporting a 13.56 MHz contactless smart card and contact smart card reader with ISO15693 & 14443 A/B compliance, the H1 Fields serves to an array of industry applications. It also meets IP65 and military spec, MIL-STD-801G, certification – meaning the device can basically withstand a six-foot drop and live to fight another day. The tablet also includes a fingerprint scanner.
The Toughbook H1 Field runs on a Windows 7 platform, but there is the option to downgrade to Windows XP for those who need it. With an Intel Atom mobile processor clocked at 1.86 GHz, battery life runs up to six hours. A hot-swappable twin battery is also available for reducing downtime.
The H1 Field features a 10.4″ dual-touch screen LCD display, with anti-glare and ant-reflective screen treatments, allowing the screen to be visible even in direct sunlight.