Paris commuters replace tickets and cards with eNFC-enabled phones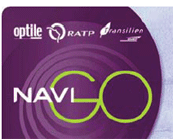 By Andy Williams, Contributing Editor
Near field communication, or in this case what INSIDE Contactless calls an enhanced NFC version, is getting a hefty workout in France. The latest announcement came from Axalto, which in conjunction with a French mobile phone company and one of the world's largest public transport operators, is spearheading a pilot program that allows riders to wave their phone at a contactless reader to gain entry to the transit system.
While Philips tests a near field communication-enabled handset to the North in Caen, Axalto is using INSIDE Contactless' eNFC in a mobile phone with the RATP (Régie Autonome des Transports Parisiens), the Independent Paris Transport Authority. Participating riders use their phones in place of metro tickets or Paris' contactless fare cards called Navigo. The intent … to deliver a solution that enables commuters to pass through metro barriers with their mobile phone while providing the same quality of service as existing Navigo cards.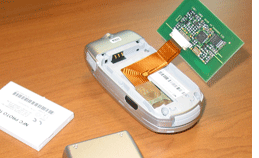 According to Axalto, the pilot project, developed alongside Bouygues Telecom, is intended to validate the concept of purchasing travel cards online and using them in contactless mode via an i-mode multimedia mobile phone. "i-mode is a system that belongs to NTT DoCoMo (in Japan). It is a kind of over the air Internet. DoCoMo has promoted this technology in other countries; and Bouygues Telecom one of the French mobile operators, is one of its users," explained Xavier Chanay, president of product marketing and technology for Amsterdam-based Axalto.
How does the Paris pilot work?
Only Bouygues Telecom customers are eligible to participate in the trial. They are also able to renew their travel cards online at any time from their mobile phone by securely connecting to the RATP server via an i-mode site.
Phones integrating this feature are equipped with an antenna and an eNFC component for contactless communications. The travel "ticket" on the subscribers' SIM card cannot be read nor used without the owner's knowledge, as end-to-end security is guaranteed for the transaction by the Navigo specification, according to Axalto. And if the battery of the phone is flat, the solution still works due to the contactless technology, said Mr. Chanay.
"We wanted to test the willingness of the metro users to use their handset as a ticket for direct access to the metro," said Mr. Chanay. "Instead of using an additional card, this would allow the overall ticketing system for the end user to be managed through the cell phone."
Why eNFC? "In addition to NFC regular features, eNFC supports all of the contactless standards in device-to-device, reader and card emulation modes," said Mr. Chanay. "This includes support of ISO 14443B in card and reader modes, as well as ISO 15693 in order to provide an open solution. Furthermore, the chip supports the battery-off mode."
As Mr. Chanay explained it, the eNFC-enabled handset includes a radio interface that is connected to the phone's SIM card. Not only can the user use the phone as a contactless card, he can also reload the ticket value over the air without having to go into a store. The phone uses a GSM (Global System for Mobile Communications) Network, so the user "needs to be in an area covered by a GSM Network, but that means nearly everywhere in France" added Mr. Chanay.
The beauty of using NFC-enabled phones as contactless cards means "no changes are required," said Mr. Chanay. "You can use the same infrastructure that's already being used for contactless cards." Only the handset needs to be modified to include the radio interface. A chip with an antenna is put into the back cover outside the electronics of the handset.
"They'll still have the benefit of changing handsets without losing their paid tickets. The rider will be able to keep all these rides and tickets with him as they will be contained in the SIM card that subscribers use to take from one handset to the next. That's one of the major advantages compared to a purely handset-based solution," added Mr. Chanay.
Why RATP got behind NFC …
Michel Barjansky, head of business development for the Innovative Customer Technologies Unit at RATP, said one of the reasons for the pilot was to find new ways to interest Parisians in using public transport.
"We want to convince more people to use public transport," he said. At the same time, RATP, which services 40% of the French market, is looking at measures that can lower costs for its riders. "We're looking for ways to open new channels," he added. After all, he said, 30 to 40 percent of its riders now have access to mobile phones.
He said the consumer base is "roughly 9-10 million consumers living in our region and the estimated ridership is between four and five million riders per day. That's different people, not trips," he points out. It's easy to see why RATP is one of the largest multi-transport organizations in the world.
He said the initial pilot with Axalto is small involving just 100 phones. "We want to make sure it works. For now, we're playing the role of guinea pigs. When we're satisfied, then we'll recruit a (larger) sample."
He also emphasized that "our recipe is not going to be to buy phones. It is the phone operators who will offer this service to their clients."
An Axalto spokesman said the company "is actively working with several manufacturers to ensure that these handsets will be available in the very near future."

Next steps in Paris …
"This application that we've put in place is a communication channel," said Mr. Chanay. "There is no limit to the type of application we can have based on this technology. This current project is simple ticketing, including over the air reload. (In the future we can) use this NFC chip as a receiver and transceiver. It would be possible to use such a handset with this RF chip interface as a kind of payment terminal that you can use with a contactless payment card to pay over the air."
As anyone riding public transport will attest, there is no shortage of mobile phone use on board. Perhaps this RATP trial will help elevate the handset to become a productive tool for the transport agency as well as a productivity tool for the traveler.
Near Field Communications News and Insight
Explore more developments dealing with the implementation of Near Field Communications, a short-range wireless technology that promises to revolutionize contactless identification, payment, access, and more.
Click to visit NFCNews
.