Parrot introduces voice controlled Bluetooth hands-free kit with NFC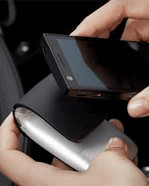 Parrot, the guys behind the Zik NFC head phones, unveiled an NFC-enabled product that lets you dial and answer calls in your car via voice command.
After tapping your NFC phone against the Minikit Neo to establish a Bluetooth connection, the device clips into the sun visor of your car, ready to accept, refuse or dial a call based on your verbal commands. According to Parrot, there is no need to physically turn the device on or off as it features a vibration sensor that automatically switches on when you get in your car.
The Neo can also synch with two different phones at the same time, allowing the driver to switch between each device's phonebook via verbal command to select the right contact.
The device will be available in Europe later this summer before reaching the U.S. in September 2012.
Learn more here.