PATCO rolls into new phase of open payment system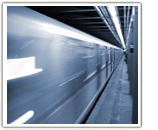 PATCO, the high speed rail line that runs between Philadelphia and Camden County, N.J., is preparing to shift into Phase Two of its open payment trial.
Phase Two will enable riders to make secure transit payments at station gates and parking terminals using any contactless Visa, MasterCard or Discover card, or a virtual card in a mobile wallet.
Run by Cubic Transportation Systems, Phase One of the trial started by enabling PATCO commuters to pay their fees using a prepaid PATCO "Wave and Pay Anywhere" Visa card, enabling customers to use a single card for both transit and retail purchases.
Officials from Cubic said the PATCO pilot program is designed not only to speed riders through PATCO's stations, but also to gain technical information for deploying and operating future contactless payment systems in other transit systems. This will include Chicago where Cubic is under contract to deliver open payment.