Pay By Touch to offer convenient check cashing services through biometrics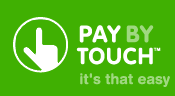 Pay By Touch's and Certegy's new alliance will allow Pay By Touch users, for the first time, to cash government and payroll checks at Pay By Touch merchant locations across the United States.
"The Certegy alliance allows us to expand upon our existing product offering to offer a safe, private, and convenient way for consumers to cash checks at every-day-retailers such as their local grocery store" says Eric Bachman, COO of Pay By Touch.
The one-time enrollment for the Pay By Touch/Certegy check-cashing service takes about a minute at participating retailers. Once users are verified with their government-issued ID and social security number, they simply scan their finger and add a search number (usually a phone number) to create a Pay By Touch wallet. Whenever a customer wants to cash a check, they simply place their finger on the scanner and enter their search number. The biometric information authenticates the customer's identity and Certegy uses its proprietary risk modeling technology to authorize the transaction.
"The Pay By Touch Technology, combined with Certegy's industry leading risk management system, provides supermarkets and retailers with a reliable, convenient method to offer check cashing services to their customers," said Jeff Carbiener, senior vice president and group executive of Certegy Check Services. "The result is increased customer loyalty and reduced exposure to fraudulent transactions."
The Pay By Touch/Certegy check-cashing service is an additional service to the Pay By Touch core offering, which gives customers the option of paying for purchases using a finger scan linked to their financial accounts and loyalty programs. Several major retailers have already launched Pay By Touch's biometric payment service, and pilots with additional retailers are underway.
About Pay By Touch
Pay By Touch is a free consumer payment service that allows shoppers to pay for purchases and cash checks using a finger scan linked to their financial accounts and loyalty programs. With Pay By Touch, the process is faster, more convenient, and more secure than other payment methods. It eliminates the need to present checks and IDs, credit, debit, membership, or loyalty cards at the point of sale, or to present IDs to cash checks. Pay By Touch offers retailers a complete payment solution from front-end biometric authentication to back-end ACH and credit card payment processing. For additional information, visit www.paybytouch.com.
About Certegy
Certegy, Inc. provides credit and debit processing, check risk management and check cashing services, merchant processing and e-banking services to over 6,000 financial institutions, 117,000 retailers and 100 million consumers worldwide. Headquartered in St. Petersburg, Florida, Certegy maintains a strong global presence with operations in the United States, United Kingdom, Ireland, France, Chile, Brazil, Australia, New Zealand and Thailand. As a leading payment services provider, Certegy offers a comprehensive range of transaction processing services, check risk management solutions and integrated customer support programs that facilitate the exchange of business and consumer payments. Certegy generated over $1.0 billion in revenue in 2003. For more information, please visit www.certegy.com.