PayPilot puts the power of contactless payments into merchant hands

New offering promises to lower card acceptance fees and empower retailers
"We had two prerequisites – installation within hours and return on investment within months," said CEO Tom Bartz when announcing Accelitec's new contactless payment solution. These are lofty goals for any payment system, but particularly for one that can enable credit, e-check/ACH, and stored value payments via a single contactless token.
The new offering is called PayPilot™ and it is the collaboration of a team of veteran petroleum / retail industry executives and former Microsoft developers. They came together in Bellingham, WA to form Accelitec four years ago, and have been working "under the radar" to create PayPilot.
Mr. Bartz clearly likes contactless technology, but he sees a fundamental flaw with the way that the technology has been used for payments. "Current contactless payment offerings do nothing to reduce the burdensome fees that merchants pay to accept credit cards," he stresses. "With PayPilot, we are harnessing the power of the technology to build a retailer-centric solution that reduces fees and builds loyalty."
In 2004 the PayPilot solution was tested with "a large oil company and several general retailers," said Mr. Bartz. This week, the market-ready platform was officially launched, with Mr. Bartz calling it "the first end-to-end contactless payment solution for retailers."
What makes up the PayPilot solution?
According to Mr. Bartz, there are four key components to PayPilot.
a variety of contactless token options
Tokens can be provided in several form factors (e.g. keyfobs, cards, watches) and can utilize any number of contactless protocols. Initial launches will include ISO 14443 B and ISO 15693 tags, says Mr. Bartz.
kiosks to enroll users and distribute tokens
Automated Token Dispensers (ATD) are standalone kiosks that enable new customer enrollment, token personalization and dispensing, and ongoing customer communication and account maintenance. According to Mr. Bartz, Accelitec has received word from the US Patent and Trademark Office that the company's patent application for the ATD has been approved. Future designs will include a wall-mounted unit suitable for smaller space constrained locations.
point-of-sale devices to facilitate payments and other transactions
Accelitec manufactures its proprietary PayPilot point of sale reader. The device operates using Microsoft's .Net environment. It is capable of both reading from and writing to the contactless tags.
network infrastructure to route and authorize transactions
At the heart of PayPilot is the ability to enact a variety of payment types and other non-payment transactions from a single token and reader. Key to this ability is a transaction network and server to route and authorize the desired transaction. Mr. Bartz uses the term Transaction Management System (TMS) to describe this functionality. He stresses that PayPilot is "not simply another payment offering, but rather a system that facilitates merchant and customer choice among payment options as well as a host of other non-payment services (e.g. loyalty, discounting)."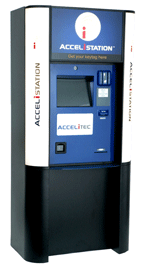 How does PayPilot work?
Using a kiosk (or ATD) located in a merchant or centralized location, a customer enters personal information required for enrollment. Next, payment account information is provided to 'turn-on' the accounts (e.g. credit card, ACH, stored value) that the individual desires to associate with the PayPilot token. His or her personal 'rules' are set forth detailing how they wish transactions to be handled (e.g. use ACH for transactions under $20 and credit for those exceeding $20).
When the enrollment is complete, the ATD encodes the appropriate information onto the contactless token and dispenses it to the new user. The entire process takes just a few minutes. The tag is ready to use.
The POS device reads the PayPilot token and applies its own pre-configured rules to the transaction (e.g. the merchant will only accept ACH transactions). The transaction is routed to the network for authorization and processing.
In some cases, the transaction will go directly to the PayPilot network. In other cases, it will be handled by the merchant's existing processor. Similarly, the POS standalone or it can be integrated into the merchant's existing point-of-sale and electronic cash register (ECR) solutions.
So how can PayPilot reduce a merchant's card-acceptance fees?
In general, it is more costly for a merchant to accept a credit card payment than it is to take ACH/e-Check or stored value payments. That is because credit card fees are assessed as a percentage of the transaction value rather than a flat fee. For all but the very small transactions, the percentage fee exceeds the flat fee. Thus most merchants would rather steer a customer away from the credit card payment.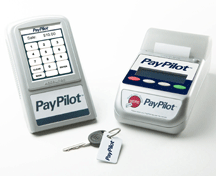 On a $50 transaction, the cost difference between a credit card and an eCheck transaction could approach $1. Multiplying this additional cost across the many customers and business days it becomes clear that the incentive for a merchant to encourage these non-credit options is significant. But it is easier said than done.
Mr. Bartz thinks that PayPilot makes this possible. With multiple payment mechanisms controlled by the same token, the choice can be more readily influenced. "The merchant can incentivize the customer to choose the better (lower-fee) form of payment," he points out. "Give them a discount not to use credit or give them loyalty points to redeem on the next visit."
Even a gradual influencing of customer behavior can have a significant impact on a merchants overall basis point pool and bottom line.
What is next for PayPilot?
According to Mr. Bartz, initial rollouts are already in process. In September, he says, the first launch will be announced with three to four more coming shortly thereafter. "Major retailers are actively seeking ways to lower their card acceptance fees. I think this is one key to the incredible response we have seen for PayPilot in this initial phase."
---
Additional resources:
To learn more about the PayPilot offering, visit Paypilot.com.