Placing multiple technologies into one credential
Two chips on a card is nothing new, but three plus an optical stripe?
By Autumn C. Giusti, Contributing Editor, AVISIAN Publications
Sometimes the best way to improve on an idea is to incorporate the tried and true.
That's what Mountain View, Calif.-based LaserCard Corp. discovered with some of its deployments, combining its optical storage and security technology with a traditional smart card.
Throughout the 1990s LaserCard relied mainly on its optical storage and security feature, an area of optical media embedded into an ID card form factor. Similar to optical storage on a CD or DVD, a LaserCard ID can store large amounts of data, biometric information and high-resolution images. Most notably, the innovation has powered the U.S. permanent resident card, better known as the Green Card, since 1997.
But in the past decade, customers began seeking out cards to carry out multiple applications.
"Progressively, we began to see the increasing requirement to add other technologies, such as contact chips," said Stephen Price-Francis, vice president of marketing for LaserCard. "The trend is toward customers demanding a combination of technologies."
Today, that means layering contactless and contact technologies as well as long-range radio frequency identification tags on a single card to enhance LaserCard's optical stripe.
Blocking fraud digitally
One of LaserCard's early multi-technology deployments was the Indian vehicle registration card. Historically, the three Indian states of Gujarat, Dehli and Maharashtra relied primarily on paper documents to register vehicles.
"The simple task of registering and reregistering a vehicle involved bringing multiple documents to the motor vehicles register," Price-Francis said.
Relying on paper created widespread fraud and considerable bureaucracy. To evade authorities, tax evaders and traffic violators erased ownership records and previous violations.
Transportation officials in the three Indian states wanted a more secure option that could store a decade's worth of data while also improving customer service. LaserCard's solution was to incorporate two forms of technology.
The optical security feature stores biometric information including a facial image and fingerprints. A contact chip stores images of scanned documents, such as the vehicle registration, so the owner doesn't have to carry paper records to every visit. The documents are scanned at the security desk once and can then be pulled up the next time the vehicle owner visits.
The card also stores information about vehicle infractions making it easier for authorities to track down violators.
The three Indian states adopted LaserCard's technology in 2001 and, to date, have issued more than 4 million cards. There has been no known instance of a security breach on the card, and it has cut registration processing times by 60%, according to LaserCard.
One card, four technologies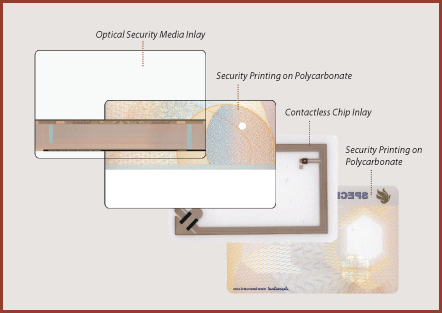 In 2002 the Italian government tasked LaserCard with creating a secure ID card for the country's national police, Arma dei Carabinieri.
Members of the police force needed a single card to serve four functions:
employee ID badge,
national identity card,
security access card for entering police facilities, and
nationwide e-government services card.
Previously, officers carried separate credentials for each purpose.
The new card combines optical security media with contact and contactless chips as well as an RFID tag. Shoehorning four technologies onto a single card created some manufacturing hurdles.
"As you start incorporating more and more technology, there can be a challenge for real estate on the surfaces of the card," Price-Francis said. Adding multiple chip layers also made it challenging to meet the card thickness standards set forth by the International Organization for Standardization.
Price-Francis said LaserCard worked closely with its manufacturing partners to engineer a solution that maintained the card's size without compromising its physical durability.
"It's a very small piece of plastic, essentially, so the technology must coexist," Price-Francis said. "We're leaders in the lamination of complex materials using polycarbonate, and we work with our industrial partners to address these challenges."
Saudi Arabia seeks security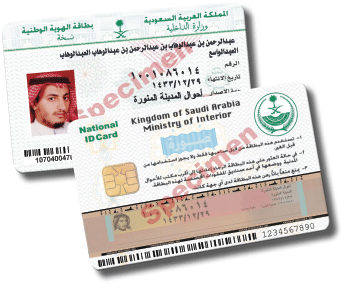 Interest in Italy's model spread to Saudi Arabia, where paper-based identification had become a security problem for its national ID card. The challenge was to reduce instances of counterfeit and fraud in a country with an increasingly mobile population, two long coastlines and borders with seven neighboring countries.
In 2004, Saudi Arabia introduced a secure ID card through LaserCard card that relies on optical and smart card technologies.
The optical media component stores the cardholder's color photo, demographic information and fingerprints. It also incorporates authentication and security features, such as a hologram that allows inspection agents to verify the card's authenticity with the human eye. All of the stored information can be updated as needed.
The contact chip manages PIN information and stores demographic and health data.
Although the basic technology has remained the same on LaserCard's deployments in India, Italy and Saudi Arabia, continued adjustments and refinements are made to the card's features and capabilities year after year, said LaserCard spokeswoman Mary McEvoy Carroll.
"It's like a piece of Microsoft software," she explains. "Although it might be called the same thing, it's a very different animal."