PLS offers RFID-enabled pallet pooling as a standard option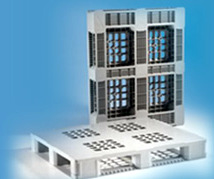 PLS, a provider in plastic pallet rental and management services, is now offering RFID-enabled plastic pallet pooling as standard for its customers to achieve greater visibility of pallets as they move through the supply chain.
Each pallet will be fitted with two Gen 2 electronic product code (EPC) compliant passive RFID tags to ensure maximum readability. Traceability is also improved as each pallet is also sequentially numbered and bar coded.
The use of EPC compliant tags enables the PLS pallet to be integrated into the customer's supply chain and RFID systems, which generates additional efficiencies, such as assisting in product tracking and automatic inventory updates within the customer's supply chain, as well as when pallets reach the end customer.
Overall, the innovative use use of wireless RFID technology results in increased productivity, better inventory management and, ultimately, reduced costs.