Port of Kingston adopts contactless ORCA card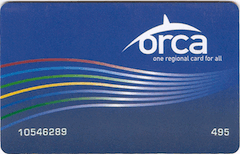 Passengers on the SoundRunner ferry connecting the Port of Kingston to downtown Seattle will be able to pay for their fares with contactless ORCA cards starting this week, according to Kitsap Sun.
The ORCA ("One Regional Card for All") system is supported by transit agencies throughout Kitsap, King, Pierce and Snohomish counties in Washington. As the latest addition, Port of Kingston hopes that the new cards will help boost ridership on the ferry, which serves about 30 people per day.
The contactless ORCA smart cards can be preloaded with credit and tapped against readers to pay for fares. SoundRunner passengers can preload their ORCA cards now, but won't be able to use them until Tuesday.
According to Kitsap Sun, the Port of Kingston payed $63,000 to be added to the ORCA software system and another $20,000 to buy, install and test the new equipment.
Read more here.