Precision Dynamics Clincher Band
Precision Dynamics is using passive RFID wristbands to track jailhouse prisoners. Right now, the company is in local jails, but state prisons are next.
"We currently have three facilities (jails) up and running," said Tom Foster, RFID patron management specialist for Precision Dynamics. "We also have a dozen water parks up and running so you don't have to carry a wallet," he said of the company's RFID Clincher wristband.
Because Clincher uses passive RFID tags, the cost per inmate at county jails is extremely low, about $1.50 to $2, said Victor LaRosa, PDC's age/ID manager for patron management. "Our cost to entry is a lot less than if you were using active tags."
"Correction officers are strapped to the hilt and governments don't have a half million dollars to implement this," added Mr. Foster of active RFID technology. "We can get them up and running for $10.000." He believes that using active RFID technology to track prisoners "is overkill."
PDC's RFID wristbands contain a microchip and antenna, which allow information to be written to and retrieved by RFID scanners. The wristbands can also be indexed to instantly retrieve and verify each inmate's photo and ID information from a facility database.
Some of the advantages of the wristband, as touted by PDC, include:
Identification data is electronically detected when an inmate scans through portals with RFID readers attached, facilitating contact-free identification and tracking throughout the facility;
Positive verification is achieved through a link to an inmate's photo/ID database, which helps detect band tampering and helps prevent erroneous releases.
Wristbands can be configured to debit inmates' accounts each time a purchase is made through the commissary.
The Clincher Smart Band enhances correctional facilities' overall inmate safety and security.
It protects guards and administrators from costly litigation.
"Administrators as well as corrections officers," said Mr. Foster, "agree our Smart Band technology safeguards their facilities against inmate litigation due to the time and attendance functions that are built into the RFID Smart Band. We have the ability to track every action within the facility, from inmate medication dispensing to the correction officers' cell tours."
The company has been attending trade shows dealing with corrections for the past three years, he said. "The first year no one knew what RFID stood for." The said the corrections market alone "represents about a billion and a half dollar opportunity."
While the company's wristbands are currently in county jails, "there's a lot of talk about expanding into (state) prison systems," said Mr. Foster.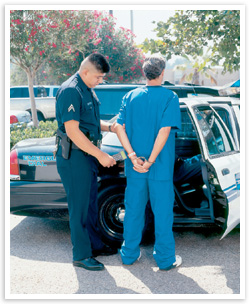 PDC has had "a lock on inmate identification bands for decades," he said. The Clincher product alone has been around for 10 years. "With RFID coming into play in the last couple of years, we found it (jails) to be a great niche market for our existing Clincher band," said Mr. Foster. The wristband used in county jails is a heavy duty band virtually indestructible. Mr. Foster would not reveal the material used in the band's construction. "It's very robust, you can't cut it," he added.
The wrist band's primary jailhouse use is to track time and attendance for inmates and guards, said Mr. LaRosa.
At a Clincher-equipped jail, correction officers are issued an RFID badge and inmates the wristband that contains an RFID chip. "The correction officer's badge is read, and time and date stamped, when he comes on duty. The officer reads each inmate's wrist band while he's in the cell. Then, he can hot synch his reader to a reporting structure which is custom tailored to each facility's need. But you have the capability to drill down by location," said Mr. LaRosa.
If the jail wants to see what an inmate did that day and where he was, or which correction officers he came in contact with, that data is available.
After the inmate's badge is read (there's a three-inch read range using a handheld reader), the guard can then input activity codes — whether the inmate was sleeping, was he belligerent, etc. "It is all updated in real time," said Mr. LaRosa. One of the beauties of the PDC system is that the inmate does "have eyeball to eyeball contact with each inmate. That reduces litigation," explained Mr. Foster. "If there's something wrong with the band, you'd know it when you tried to read it."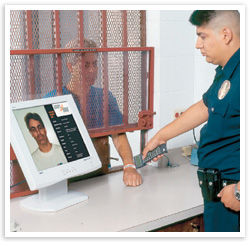 When the band is scanned, the inmate's picture pops up. "That also prevents releasing the wrong inmate," said Mr. LaRosa.
He said the jail could install gate readers through which all the inmates at some point during the day have to pass through, such as at the cafeteria. "If 100 went in and only 99 came out, then you'd know immediately to look for that other inmate," said Mr. Foster.
As for the location tags, they can be posted in each individual cell or outside each pod. "Typically," said Mr. Foster, "they want the location tags outside each cell." Tags can also be installed in the infirmary.
The guard scans the tag where he's at, then he scans the inmate. If the inmate has been given permission to go to the infirmary, "you can set up an alert device, giving the inmate say five minutes to reach his destination. If he doesn't make it then, an email alert goes out that tells the facility the inmate didn't make it to the infirmary," explained Mr. LaRosa. "You can even have a reader open the door. There are different ways you can force them to interact with the reader."
"The company sells more than a half billion waistbands each year. "We've had the patent since 2000," said Mr. LaRosa. "We sat on it for a couple of years until about two years ago when the first RFID Clincher rolled out."