Premier handheld handles biometrics, chip cards, contactless, and more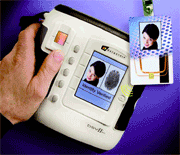 A new handheld reader is likely to make the wish list of every well-equipped security provider. Not only will it handle biometrics (fingerprints), it will also read smart cards, contactless cards, and even traditional mag stripes and bar codes.
Judges at ISC West in Las Vegas, Nevada, in April were so impressed with Datastrip's DSVII-SC that they gave it the New Biometric Product of the Year award.
"The DSVII-SC is a new mobile device that was introduced in April, 2004," said Melinda Morris, Datastrip's inside sales manager at the company's corporate headquarters in Exton, Pennsylvania. "The devices are currently being used in the U.S. and worldwide by system integrators and Automated Fingerprint Identification System (AFIS) providers for solutions being developed for law enforcement, transportation, schools, prisons, nuclear power plants and other high security facilities."
Datastrip is a provider of personal identification and verification technology that specializes in creating portable information and ID solutions. "We have orders for large quantities of readers which are being shipped worldwide," said Ms. Morris. "Readers have been shipped to Latin America, Europe, Asia and the Middle East," she said.
"Our new DSVII-SC reader truly raises the bar on biometric ID card readers in terms of performance and flexibility," said Steve Blackmore, Datastrip's CEO. "With heightened concerns over public safety in this post-September 11 era, products like ours are absolutely necessary for initiatives designed to extend identity verification efforts beyond traditional fixed-doorway checkpoints."
The DSVII-SC integrates a smart card reader that can read identity data stored on both contact and contactless ID cards, a fingerprint sensor for biometric verification, and a large color digital touchscreen display that presents decoded photographs, biographic information and/or signatures for visual comparison with the cardholder.
The company says the device can be used with employee access cards, national ID cards, driver's licenses, health cards, the new contactless-based passports, and other identity documents; in federal security initiatives such as the US-Visit, Common Access Card (CAC) and Transportation Worker ID Card (TWIC) programs; and at locations ranging from border crossings, customs checkpoints and military bases to seafaring vessels, trucking company docks, building entry points and parking lot gates.
Suggested retail for the reader is $1,800, said Ms. Morris. Average battery life is about eight hours and additional batteries cost $120 each, she added. The reader's memory can be upgraded via commercially available chips.
The Datastrip product is built on a Hitachi-based RISC processor and supports 802.11 and Bluetooth wireless communication. The operating system is based on Windows CE.net, which allows customized applications.
Here's a walk-through of how the handheld might be used, as described by Ms. Morris: "For card-based systems, typically, a guard presents an ID card to the DSVII-SC and the cardholder's data is read via contact or contactless smart card. The application then prompts the person to present the enrolled finger, the cardholder places his/her finger on the 500 dpi fingerprint sensor and the application performs a one-to-one match ensuring the identity of the cardholder.
"Other data encoded in the card, such as color photo, signature and text data, is displayed and may be stored or transmitted wirelessly to a back-end system," she added.
"Alternatively, applications for the DSVII-SC may read a number from a standard prox card and search a back-end database (either stored internally on the DSVII-SC or wirelessly transmitted to a back-end system) to locate a fingerprint template and/or other identity data."
Then the handheld performs a 1:1 fingerprint match, she said. "This way, a biometric doesn't have to be carried on a card and the system may be used with existing prox cards that have already been issued."
Other cardless applications involve wireless transmission of a fingerprint image or template to perform a fingerprint identification or verification, so the Datastrip product "is a totally integrated mobile AFIS device," she added.
The reader, said Ms. Morris, handles most standards, including contactless ISO 14443 A/B Mifare and Desfire cards and contact ISO 7816 smart cards. What's missing is iClass, but that's coming.
"We are adding support for HID's iClass contactless cards," she said. "Also, prox and mag stripe cards are supported via a USB plug-in module. And PDF417 2D bar code cards, such as many driver's licenses, are supported via a CF plug in."
It is this versatility, the company believes, that gives systems integrators the ability to meet the needs of many different kinds of identification projects with one hardware platform, and means end users will not have to switch their equipment if they change or upgrade their applications in the future.