Privacy and security: Two sides of the same coin says Richard Clark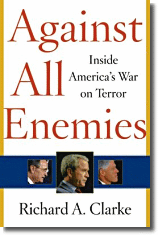 Richard Clarke doesn't beat around the bush—be it the proverbial one or the Presidential one. A a security advisor to four U.S. presidents, an on-air expert on terrorism and homeland security for ABC News, and current chairman of Good Harbor Consulting, he has unique access and unique insight when it comes to national security. And, as attendees at Mr. Clark's keynote address to the Smart Card Alliance Annual Fall Conference found out, he doesn't sugar coat his concerns.
"The global war on terror, cyber security initiatives, and homeland security have created a unique time of challenge and opportunity for the smart card industry," he says. Will the industry succeed in the face of this opportunity? Mr. Clark seems to think so, stating his belief that, "every American will be carrying 2 or 3 smart cards ten years from now and we will have addressed the privacy concerns." His thoughts on our battles with terrorism, however, are not so positive.
We are not winning the global war on terrorism
"Unfortunately we have not made a great deal of progress (in the war on terrorism)," states Mr. Clark. He pointed out that while Al-Qaida has not pulled off another attack in the U.S., there have been twice as many attacks overseas in the three years since 9/11 then in the three years prior. Intelligence reports indicate that the number of people in Al-Qaida cells is up as is money flowing into the movement. "This is a generation-long struggle we are involved in," he adds.
The Department of Homeland Security (DHS) "has not made us any more secure," says Mr. Clark. "Rather," he points out citing the merger of 22 agencies into one, "it has created chaos in an already chaotic federal organization."
He sees good progress in the efforts to secure passenger aircraft but sees that as the only area of success in a long list of vulnerabilities. "You would think after Madrid, we would have secured the commuter rail system," he cites explaining his position, adding similar concern for the lack of security at the nation's chemical plants.
And he believes the greatest challenge is yet to come. Because, he fears, "the American people are starting to resent homeland security." Implying a growing distaste for the inconsistent application of security processes as well as the obvious holes and gaps, he asks as one example, "what is the point of asking for a driver license at airports when we don't even check the digital watermarks or (check the license's validity) against a database."
No national ID cards in America's future
"We will not have a national ID card (in the U.S.) because a large minority – one-quarter to one-third – oppose it vehemently." But he sees that the country already has an identity card in that "80-90% of adults in most states have a driver license." The people need to recognize this but also recognize the inadequacy of the current license as an identity token. "You already have an identity card," he stresses, "but because it is insecure both you and the country are at risk."
But he did not leave the audience feeling helpless. Rather he suggested a series of positive steps that can be taken as a nation and as an industry. He stressed education of the populace to the privacy-enabling capabilities of identity technology. "Privacy and security are two sides of the same coin," he stressed. "We cannot have one without the other."
---
Additional Resources:
To read a transcript of Mr. Clark's controversial interview on the television show 60 Minutes,click here.