Privaris to add RSA OTP to its plusID biometric device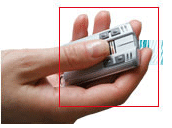 Privaris' plusID personal biometric device will be complemented by RSA' SecurID one-time password offering in a single form factor. The plusID relies on a successful biometric fingerscan to authorize the transmission of the user's information (e.g. credential number) via contactless means. Adding the OTP capability makes it a robust solution for both physical and logical security with three-factors on a single device.
Privaris Teams with RSA, The Security Division of EMC, to Add RSA SecurID® Technology to the plusID™ Universal Biometric Device
RSA SecurID® One-Time Password Technology to be Embedded within the plusID™ Device; the Single Employee ID Credential for Physical and Logical Access
CHARLOTTESVILLE, Va. (BUSINESS WIRE) February 5, 2007 – Privaris today announced its participation in the RSA SecurID® Ready for Authenticators Partner Program – an extension of the trusted RSA Secured® Partner Program. As such, Privaris plans to have certified interoperability between its plusID™ family of personal, handheld biometric identity verification devices and RSA SecurID® technology by embedding the RSA SecurID one-time password (OTP) algorithm within the devices.
This collaboration will provide three unique authentication factors: something you have – a plusID token, something you know – a one-time password generated by the RSA SecurID algorithm, and something you are – your fingerprint. The plusID personal biometric token is planned to be easily incorporated into existing RSA SecurID deployments, for all or a subset of employees requiring heightened security.
The RSA SecurID enabled authentication capabilities will be added to an already rich set of plusID communication protocols that allow plusID to be used with organizations' existing physical and logical (IT) security infrastructure. Compatibility with RFID technology from HID®, Indala® and Kantech, Bluetooth® wireless technology, USB and a smart card compliant interface allow the plusID device to be easily integrated and deployed across the enterprise.
"This strategic partnership helps fill a need in the $140 billion physical security industry which is ripe for multi-use authentication devices," said Steve Hunt, Analyst and Founder of 4A International. "The integration of plusID from Privaris with RSA SecurID technology means that network security can be more easily incorporated with corporate physical security systems and card readers."
In lieu of multiple access cards, fobs and passwords, employees can carry a single trusted token that verifies their identity for secure access at multiple doorways and vehicle gates, as well as to computers, networks, websites, software, VPNs, encrypted files, and online applications – without changes to their legacy systems. The plusID employs the BCM5890 secure processor from Broadcom®, an RSA SecurID Ready for Authenticators partner, to perform trusted cryptographic operations and provide an unequaled level of security for user's sensitive biometric information.
"Our strategic partnership with Privaris helps to accelerate RSA's initiative to enable confident, secure access to information – whether by customers, partners or employees," said Dennis Hoffman, Vice President & General Manager, Enterprise Solutions at RSA, The Security Division of EMC. "The planned integration of RSA SecurID technology and the plusID token will be ideal for businesses concerned with protecting their valuable corporate assets as well as their employees' personal privacy. This technology partnership also enables RSA to offer greatly expanded deployment options and cost-savings opportunities to accelerate business objectives as enterprises and consumers can leverage a single device to support additional security capabilities."
After successful completion of technical interoperability with RSA SecurID technology, each successful fingerprint authentication on a plusID personal token will trigger the release of an RSA SecurID generated one-time password (OTP), ensuring that only the token's authorized user will be granted access to IT resources. The RSA SecurID generated OTP will be automatically transmitted to the host computer using USB or a Bluetooth wireless connection. For use on public PCs or kiosks, where no direct connection is available, the RSA SecurID OTP would display on the plusID device for manual entry by the user.
"Privaris and RSA are working to make it simple for organizations to benefit from the efficiencies of an integrated security solution and offer the convenience of a single, universal security credential to its employees," said John Petze, CEO of Privaris. "Our collaboration with RSA complements Privaris' mission to work with existing security infrastructures to make the implementation of biometrics simple, cost-effective and therefore pervasive. It will soon be exceedingly easy for businesses to arm their employees with greater security simply by leveraging their existing RSA SecurID infrastructure."
The plusID token will be distributed through OEM partners and vendors of physical access security systems.
About the RSA SecurID Ready for Authenticators Program
The RSA SecurID Ready for Authenticators program supports RSA's effort to foster ubiquitous stronger authentication. The program enables partners to transform their own solutions into platforms for stronger authentication by embedding the RSA SecurID algorithm. By doing so, RSA and its partners can offer enterprises greatly expanded options for delivering stronger authentication to employees, customers and partners. In addition, these partnerships can present cost-savings opportunities as enterprises can leverage a single device to support additional capabilities.
About Privaris
Privaris Inc. focuses its technology expertise on the intersection of high security biometric applications and an individual's right to personal privacy. Privaris products authenticate the identity of an individual prior to that individual being granted access to facilities, resources, services, and transactions. Privaris Inc. is a privately-held Delaware corporation with its headquarters in Charlottesville, Virginia. www.privaris.com.