Proventix records more than 4 million clean hands in health care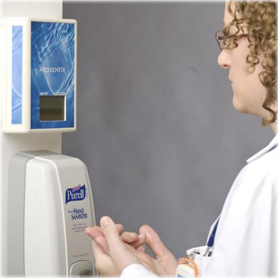 Proventix Systems announced its RFID-enabled hand-hygiene quality and compliance monitoring system has now recorded more than 4 million total hand cleansings.
Proventix's nGage monitoring system monitors hand hygiene compliance at the academic medical center, 24-hours-a-day, 7-days-a-week and does so through the use of RFID badges worn by caregivers.
Princeton Baptist Medical Center in Birmingham, Ala. was one of the first hospitals to adopt a pilot project using nGage which resulted in a reported 22% reduction in healthcare associated infections. The University of Chicago Medical Center and the University of Maryland Medical Center have subsequently received similar systems.
The system tracks caregiver hand-hygiene events upon entering and exiting a patient room and allows health care facilities to collect data to know which workers comply, how often compliance happens and which dispensers are used. Information can then be used to determine correlations between hand hygiene events and health care-associated infections, thereby reducing the risk for spread of infections.