Razorfish's NFC 'Gumball Machine' sells mobile content, not candy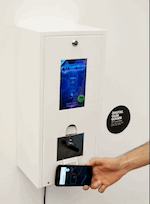 Marketing agency Razorfish has developed an NFC-enabled "Gumball Machine" prototype that enables users to pop in a coin to wirelessly receive mobile content.
The prototype contains all sorts of digital content, including apps, movies, songs, e-books and location based coupons. Just like with a normal gumball machine, the user simply puts the change into the slot and turns the crank. The user then taps his or her NFC phone against a reader at the bottom of the machine where the gumball would normally come out to receive the content.
The NFC Gumball project was completed during a two day prototyping session at Razorfish's Frankfurt office. The machine uses a Samsung Galaxy Tab, an NFC shield, a reed switch and two Arduino microcontrollers, according to Razorfish.
Find out more here.