Reader advancements to drive smart card growth in '05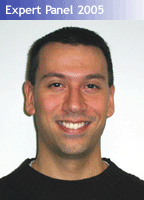 A panel of ID industry experts provided predictions for 2005. One of these glimpses into the future will appear here each day during December.
By Peter Boriskin, Chief Technology Manager, Software House, Tyco Fire & Security's Access Control and Video Solutions Business Unit
"It's only a matter of time" has been the widely-accepted belief when discussing when smart cards will be adopted on a large scale. The question is: When is this "time" going to occur? Smart card reader systems are the most effective way to secure buildings while incorporating new functionalities such as cashless purchases, securing assets, and storing biometric identifiers for highly secure facilities. The benefits of smart card systems have been widely understood for some time. However, most organizations have not even considered using these systems because of various barriers such as: high costs, complexity of transitions and waiting for a single standard to be adopted.
The difference for 2005 is, these barriers are now eliminated and security executives can consider adopting this valuable technology. The next generation of access control readers covers multiple standards, read both smart and proximity cards from different vendors to allow for more simplistic transitions, and leave room for future advances in card technology to protect investments over time.
With the new technology now in place allowing companies to "future-proof" their investment and implement the technology in both physical and financial phases, the time for Smart Card adoption is 2005. Of course, the transition will be over time, but I believe the starting point for this technology to make some real headway, is in 2005.
In 2004 we saw big strides in convergence as well. Physical and logical security officers are continuing to work together to promote organizational and technical integration between the physical and IT worlds in order to maximize security while cutting operating costs. Manufacturers, Dealers, Integrators and End-Users meanwhile, continue to establish standards and promote those standards.
In 2005 we will continue to see customers seeking systems integrators offering technologies that convey an integrated security approach. The established manufacturers, consultants and integrators who have demonstrated proven product reliability, dedication to standards, and a successful approach to integrated security will prosper in 2005.
---
About the author:
Peter Boriskin is the Chief Technology Manager for Software House, part of Tyco Fire & Security's Access Control and Video Solutions business unit. Peter has been with Software House for more than seven years, working in both sales and technical support. Prior to joining Tyco, Peter founded a networking company where he was owner and President. Peter has over ten years working with technology and seven years in the security industry. Peter holds Certifications from Cisco, Microsoft, and Legato, and has been extensively trained in network security, threat assessment and incident handling.Peter holds a BA from Brandeis University.
Visit Software House on the web at http://www.swhouse.com