Real ID Act faces real challenges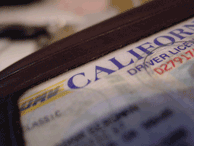 By Andy Williams, Contributing Editor
Opposition is building against the Real ID Act requirement that, among other things, forces states to standardize driver licenses. Many at the state level fear that the under-funded, aggressive mandate will be overly burdensome and difficult to meet. At least one coalition of privacy-concerned groups fear the new rules, in development now, could force states to include RFID chips on their driver licenses.
The Real ID Act of 2005, which passed Congress last May (it was tucked inside a massive appropriations bill), prohibits federal agencies (and airlines) from accepting state-issued driver licenses or identification cards unless they meet minimum security requirements – such as including common machine-readable technology and certain anti-fraud security features. It also requires verification of information presented by the license applicant, who must also supply evidence that he is a citizen or a legal immigrant. The act requires standardized driver licenses by 2008.
And, therein lies the controversy …
Though the Real ID Act in its current form does not specify RFID or any other specific technology, a coalition consisting of groups spanning the political playing field has submitted a letter to DHS opposing the inclusion of RFID.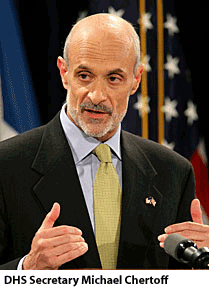 This latest shot came from a coalition of 21 organizations, including the American Conservative Union, Citizens Against Government Waste (CAGW), and the American Civil Liberties Union, that sent a letter to Department of Homeland Security Secretary Michael Chertoff, urging that DHS, in its rule-making, "…establish a standard that provides the greatest possible security at the most reasonable cost while protecting individual privacy."
The letter was prompted by the group's concern that DHS might mandate that an RFID chip be included in all state driver licenses. The group contends that many states are already using secure technology, such as 2D bar codes, "as an anti-fraud tool" and are also protected against skimming, which can (also) happen with RFID-enabled ID cards. "This is one reason that states do not currently use a RFID or computer chip of any kind in their driver licenses," states the letter.
Just as critical are costs, says the coalition. "While the Congressional Budget Office estimated that the cost of complying with the REAL ID Act would be $100 million for all 50 states, the state of Washington independently concluded that it would have to spend at least $92 million in the first two years alone. The National Conference of State Legislatures estimated the cost of implementation of the REAL ID Act would be $9-$13 billion. Citizens Against Government Waste has estimated that a federal chip mandate for state drivers licenses would cost $17.4 billion," the coalition wrote. That, according to CAGW, breaks down to about $93 per license.
David Williams, CAGW's vice president for policy, said the coalition has received no response from DHS. "I'm not surprised," he told SecureIDNews, "but we'll keep hammering away."
His organization has also collected some 10,000 signatures on a petition urging DHS to stay away from mandating RFID technology on driver's licenses. "There has been talk in Congress about opening up the Real ID Act again, but nothing has happened," said Mr. Williams.
State license issuers ready for the task at hand
The American Association of Motor Vehicle Administrators (AAMVA), a group representing those who will have to implement the driver license portion of the Real ID Act, has taken a calmer, wait-and-see attitude. The AAMVA says in its Real ID Act credo that its members will do everything they can to make sure the act is implemented properly, adding:
"…AAMVA members recognize there is a need for uniform minimum standards and best practices to assure there can be reciprocity and efficiency within and among the issuing authorities."
It has created its Real ID Task Force, which has been working with the Department of Homeland Security and state groups, like the National Governors Association and the National Conference of State Legislatures, "to prepare formal input regarding the issues, impacts and recommendations to ensure the Real ID Act is implemented in a practical and successful manner." The AAMVA task force plans to issue its recommendations in late February 2006.

Homeland Security still in the early stages of detailing Real ID
Meanwhile, DHS has no timeline on when the rules might be written, said Jarrod Agen, DHS spokesperson.
"We're not at the point of announcing what may be in the rules," he said. DHS is currently "working with individual states to talk about the key issues, like information sharing and technology connectivity and some of the hurdles that need to be looked at in those areas," he added.
In the technology and security areas, he said DHS is "open to areas that are going to benefit some states." He referred specifically to the PASS card (People Access Security Service) recently announced to comply with the land border crossing requirements of the statutory Western Hemisphere Travel Initiative. That law requires that anyone applying for admission to the U.S., including U.S. citizens, present secure travel documents that denote citizenship and serve as proof of identity. The biometric-enabled PASS card will be an alternative to a traditional passport book for use by U.S. citizens living in border communities who frequently cross into Canada or Mexico. The card will be issued starting in late 2006.
PASS, which is being developed by the Department of State, will likely include RFID technology, said Mr. Agen.
"We hope to get to the point where you can talk to states about how that technology will work and whether states want to use that (technology) in their driver's licenses," he added.